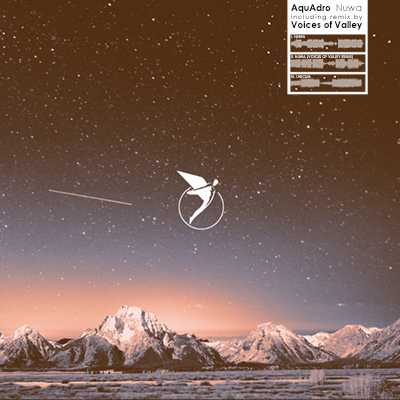 Artist: Aquadro
Title: Nuwa
Remixer: Voices of Valley
Release Date: 5 November 2021
Supported by Tale Of Us, Mind Against, Artbat, Adriatique, Solomun, Fideles, Kevin de Vries, Hunter/Game, Agoria, John Digweed, Joris Voorn, Pete Tong, BLANCAh, D-Nox & Beckers, ao.
Astral Records opens the month of October by welcoming AquAdro to the label for their debut EP. Based in Italy and comprised of Andrea Del Grosso and Antonio Castaldi, the AquAdro project first emerged in 2007. Inspired by the sounds of Hernan Cattaneo, Deep Dish, Satoshi Tomiie and more, the duo found favourable footing in the progressive music underground, landing releases courtesy of Bonzai Progressive, Stellar Fountain, Sudam Recordings and their own Revelation imprint. A shift in style has reinvigorated AquAdro of late, with a distinct astral techno flair to their productions the Italian duo has found a home on Awen Records, Three Hands Records and Valkyria Records. Now continuing that momentum, AquAdro add Astral Records to their resume with 'Nuwa' alongside a remix from Voices of valley.


Beginning with 'Nuwa' AquAdro deliver one of their most powerful productions to date. Led by a punchy groove, pulsating rhythms and astral stabs, its ethereal nature proves to be quite compelling. Dark and mysterious across the first act, it's flair for the dramatic grows as vocal fragments and sizzling effects elevate mood and tension leading into the break. Spanning over a minute in length, the centrepiece expands the narrative with a symphonic synth display and icy atmospheres melting down to a haunting vocal sample, as the groove drops for a thunderous finale. The companion piece 'Unicum' follows suit with more peak time flair as muscular grooves lay the foundation for growling synths and firing percussion. Ghostly vocal wails add depth and emotion as the narrative evolves, before a tense yet melodious break spearheads a devilish drop and charged finale.

Making their label debut and providing the lone interpretation of 'Nuwa' are Voices of valley. Formed in 2017 by Greek artists Valantis Likostratis and George Triantafyllakis, Voices of valley have achieved measurable success in relatively short order. Their dark, ethereal take on techno has won over the genre's tastemakers and landed them releases on BeatFreak Recordings, KATERMUKKE, Steyoyoke, Three Hands and Us and Them Records. Continuing what has been a prolific year, Voices of valley now make their Astral Records debut with a powerful take on 'Nuwa'. Combining pulsating rhythms with tough beats, crisp percussion and astral stabs makes for a sleek yet electric first act. Metallic arps roll forward, as layers of percussion push momentum into the main break. Grandiose and dramatic in equal measure, buzzing bass swells and cinematic pads highlight the centrepiece, paving the way for a clever transition into an effects laden drop and thunderous final act. A great complement to the original which caps off an excellent Astral Records debut for both AquAdro and Voices of valley. Don't miss it.