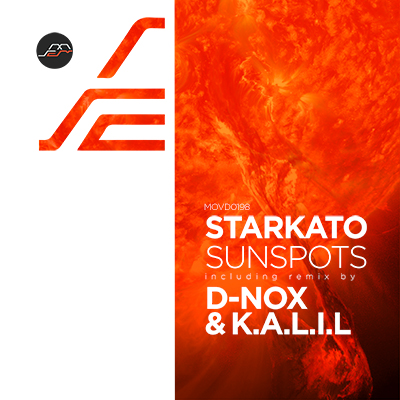 Artist: Starkato
Title: Sunspots EP 
Remixers: D-Nox & Kalil
Release Date: 8 June 2020
Supported by: Solomun, Hernan Cattaneo, Damian Lazarus, Jerome Isma-Ae, Cid Inc , Quivver, Citizen Kain, MATAN CASPI, Sahar Z, Marc DePulse, Mitch de Klein, Mike Griego, Paul Anthonee, Tripswitch, Sezer Uysal, Danny Lloyd, Graziano Raffa, Amber Long, Mattia Pompeo, Darin Epsilon , Sonic Union, Nick Varon, ao..
The latest release from Tash's Movement Recordings welcomes Starkato back to the label for a new EP. The German artist has found a comfortable home on the Greek imprint with this being his ninth appearance. Also laying claim to releases on Hernan Cattaneo's Sudbeat Music, Beatfreak and ICONYC, the Wiesbaden resident remains an in-demand talent across the melodic techno landscape. Having most recently collaborated with Movement boss Tash on 'SQR', Starkato now makes a welcome return to the label with 'Sunspots' alongside a remix from D-Nox and K.A.L.I.L.

Spread across four tracks it's the progressive techno crossover sound of the title track which leads the EP off. Dark and punchy from the outset it's robust low end and crisp stabs make an immediate impact, while driving percussion and luminous arps fill in the framework. Smooth chord changes and poignant overlays advance the narrative into emotive territory, before becoming fully realized during the main break and fiery finale.
Continuing with 'Python' Starkato follows a similar sonic ethos with a tough, arp driven slice of cosmic techno. Once again, a series of emotive swells off sets its crunchy drive and piercing effects for a perfect balance of colour and texture. The third and final original 'Kneel' follows suit with more of an esoteric narrative. It's backbone of punchy beats creates a big presence as buzzing synths and striking tonal design fully saturate your senses. Building with a veteran's savvy it's granular lines eventually open up, inviting you to a more emotive lean on the piece while an astral arp adds just the right cosmic vibe for a stellar final act.
The lone interpretation of 'Sunspots' is provided by D-Nox and K.A.L.I.L who have been occasional studio partners in recent years. Their collaborative efforts for Balance Music, Beat Boutique, Parquet Recordings and Stil Vor Talent have all been exceptional. Now landing on Movement Recordings D-Nox and K.A.L.I.L provide a stunning rendition of 'Sunspots'. Taking a cue from the original the duo maintains the tough foundation while expanding on the rhythmic narrative for what results in a sure-fire peak time bomb. Flurries of exotic drums, ghostly vocal phrases, and a deadly stab work in perfect unison, while rising atmospheres make for an unforgettable finale. A massive remix from D-Nox and K.A.L.I.L which rounds out a top notch offering from Tash's Movement Recordings once again.