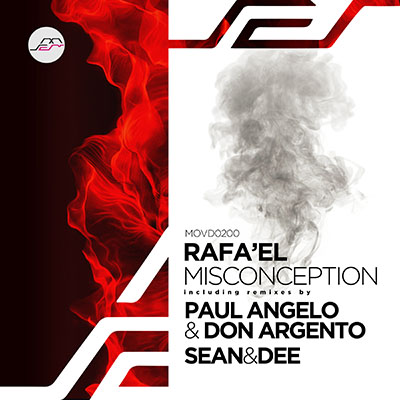 Artist: Rafa'EL
Title: Misconception EP 
Remixers: Sean & Dee, Paul Angelo & Don Argento
Release Date: 22 June 2020
Supported by: Hernan Cattaneo, Chicola, Tim Penner, Paul Thomas, Lonya, Haze-M, Matan Caspi, Kaldera, Matias Chilano, Nicolas Rada, Emi Galvan, Tash, Paul Anthonee, Alex Preda, Mike Griego, Pedro Mercado, DJ Ruby , ao..
Tash's Movement Recordings celebrates their 200th release by welcoming Rafa'EL back to the label for a new EP. The Polish artist first appeared on the Greek imprint in September of 2016 with the 'Fields of Hope' EP. Written in conjunction with Northern Lights boss K Nass, it made for a stellar label debut. Also owning releases on Balkan Connection, Beatfreak, ICONYC, Soundteller and Stellar Fountain, Rafa'EL now lands back on Movement with 'Misconception' alongside remixes from Paul Angelo & Don Argento and Sean & Dee.
Beginning with the title track Rafa'EL explores the deeper spectrum of progressive minded house. Its warm, spacious groove is perfectly contoured, adorned with tasteful arps, finely tuned percussion and timely effects. Stripping down into the main break, icy overlays heighten anticipation before a cavernous reservoir adds just the right amount of tension as a smooth finale ensues. The companion piece 'All I Could Think' continues the deep yet trippy ethos set by its predecessor. Mysterious and mystical from the outset, the piece flows through astral designs, melodic fragments and gaseous atmospheres across the first act. The narrative shifts into more emotive territory moving into the break, with a gorgeous tonal theme taking centrestage, before effortlessly shifting energy into a glowing final act.
The first interpretation of 'Misconception' is provided by Movement artists Paul Angelo & Don Argento. Hailing from Cyprus, the much-loved duo has become a core part of the Greek imprint since making their debut in 2017 with a contribution to the label's 'Technical Progress' Vol. 7 collection. Paul and Don have since gone on to appear an additional six times while also finding a home on Beat Boutique, Dopamine Music, Sound Avenue and Soundteller Records. Now following their well received 'Dear Cave' EP, the duo lands back on Movement with a stunning remix of 'Misconception'. Dark and driving, the groove commands a large presence as electric rhythms and astral artifacts adorn the framework. Evolving with a veteran's savvy, timely drops and percussive flurries provide dynamic moments leading into the second act. Icy drifts highlight the main break, delivering palpable tension before melting down to a wonky fill and ultimately a powerful drop.
The second and final interpretation of 'Misconception' is provided by Sean & Dee who return to the label for their third appearance. The Italian duo first appeared on the Greek imprint in January of 2019 with a remix of 'Resurrection' by V-Cious and Trapped In Time before kicking off 2020 with their highly touted 'Phoenix' EP. Also laying claim to releases on BeatFreak Recordings, ICONYC, Outta Limits and UV, Sean & Dee now land back on Movement with a powerful rendition of 'Misconception'. Remarkably fluid and undeniably modern, it's a mix that stays true to the delicate themes from the original, while adding an underlying tension through crisp design and electric rhythms. Airy atmospheres rise as the first act strips down into the centrepiece, perfectly setting up an emotive interlude and dramatic bridge into an exhilarating conclusion. A powerful remix from Sean & Dee, rounding out what is a monumental 200th release for Movement Recordings.