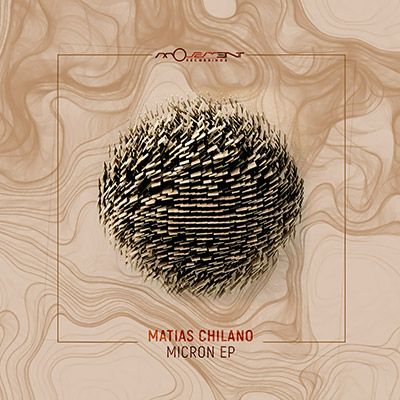 Artist: Matias Chilano
Title: Micron EP (incl. Timeline & Nothing to do)
Release Date: 21 March 2018
Supported by: Hernan Cattaneo, Nick Warren, Dubfire, Paco Osuna, DOSEM, Eelke Kleijn, BLANCAh, DAVÍ, Cristoph, Darin Epsilon, Davide Squillace, Microtrauma, ILona Maras, Aly & Fila, Marc DePulse, Jamie Stevens, Lonya, Be Svendsen, Betoko, André Absolut, Sonic Union, Subandrio, Roger Martinez, BOg, David Granha, MATAN CASPI, Tripswitch, Mononoid, Mariano Mellino, Li-Polymer, Malbetrieb, Nick Varon, Graziano Raffa Dj, Eran Aviner, Soulwerk, Jorgio Kioris, ao
The 160th release on Movement Recordings welcomes Matias Chilano back to the label for his debut EP. The Argentinean artist made his debut on the Greek imprint in July of 2017 with a remix of 'Terra' by Michael A . Having since appeared on Juicebox Music, Sound Avenue and SoutlArt Recordings, Matias' career continues to blossom with the continuous support of Hernan Cattaneo and Nick Warren. Now making his return to Movement, Matias presents his much anticipated artist showcase entitled 'Micron'.
In a journey comprised of four compositions 'Micron' presents what would have to be considered Matias' most diverse and mature work to date. Beginning with the title cut we see the Argentine exploring astral storyboards over smooth, pulsating grooves. Striking hits in combination with sweeping effects and heavenly vocal pads create a surreal environment. Emotive and heady in equal measure the main break takes you one step closer to spiritual enlightenment, before a smooth re-entry provides an effortless transition to the meditative yet trippy finale. The '4AM' version goes deeper and more driving for a luminous late night affair. Again the effects and vocal elements play heavily in the narrative while swirling atmospherics create the perfect backdrop.
The EP's third selection 'Nothing To Do' follows suit with a warm, free flowing groove, perfectly accented with cosmic designs and finely tuned percussion. Pulsating and meditative, it's a composition build on restraint and delicate detail, from dulcet motifs to luminous overlays. The release concludes with 'Timeline' which carries the ethos of the EP perfectly. Again with a focus on spacey themes and warm driving grooves it's an indistinct transmission which proves to be most compelling, particularly during a free flowing break and gorgeous finale. Four stunning creations from Matias which set the stage for what promises to be an incredible year for the Argentinean artist.