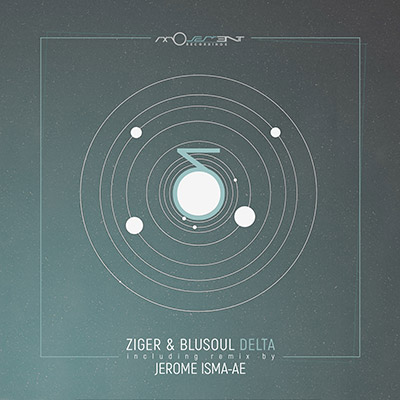 Artist: Ziger & Blusoul
Title: Delta (Original + Dub)
Remixers: Jerome Isma-Ae
Release Date: 5 March 2018
Supported by: Hernan Cattaneo, Behrouz, Paco Osuna, Human Machine, Microtrauma, D-Formation, THe WHite SHadow, Aly & Fila, Blake Jarrel, Marc DePulse, Cid Inc, Interaxxis, Tripswitch, SHFT, Graziano Raffa, Praveen Achary, ao 
The latest release from Movement Recordings pairs two of Greece's finest progressive house producers in a dream collaboration. Both Ziger and Blusoul have enjoyed immense success in their respective solo careers, appearing on Sudbeat and Lost & Found respectively. Now collaborating for the first time the Greek duo presents the hugely anticipated 'Delta' alongside a remix from Jerome Isma-Ae.
As long time favourites of Hernan Cattaneo and Guy Mantzur Ziger and Blusoul have firmly etched their place in progressive house history. A meeting of their creative minds is a hugely exciting prospect and delivers in a unique and inspired way. Beginning on a back bone of tough beats and rolling, rugged basstones it's clear the aim is straight at the dance floor. Waves of percussion and clustered claps add a dynamic flair, before a cross-cultural vocal shifts the narrative into spiritual territory. Effortlessly breaking down into a second act, electric synth lines emerge, fueling the rhythmic core, before a rush of drums summons the groove for a magic moment. A peak time killer from Ziger and Blusoul. For the less vocally inclined a dub has also been provided with the same great energy and flow.
The lone interpretation of 'Delta' is provided by Jerome Isma-Ae who is making his first appearance on the label. The German artist has a storied progressive house history with countless Beatport chart hits for Anjunabeats, Suara and his own Jee Productions imprint. Now making his much anticipated Movement Recordings debut Jerome takes 'Delta' into his own world of surreal atmospherics and transcendent beats. Following a meditative first act the piece strips down into a cavernous break, showcasing the main theme as drama and emotion builds, perfectly setting up a third act of bulbous bass tones and percussive waves. A stunning remix from Jerome which rounds out one of Movement Recordings most anticipated releases to date. Definitely one you're going to be hearing a lot in the coming months.