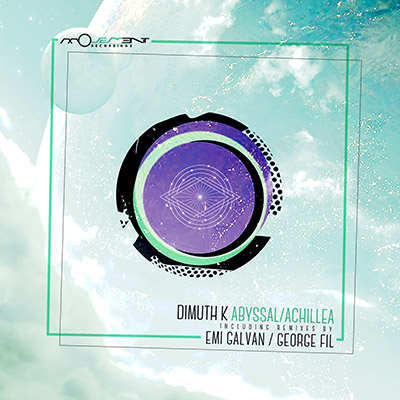 Artist: Dimuth K
Title: Achillea / Abyssal
Remixer: Emi Galvan, George Fil
Release Date: 22 August 2017
Supported by: Hernan Cattaneo, Nick Warren, Roger Sanchez, Joris Voorn, Paco Osuna, Tripswitch, Anthony Pappa, Roy Rosenfeld, Lonya, Jamie Stevens, Olderic, David Granha, Marc Poppcke, Marc DePulse, BOg, Simos Tagias, ANIMAL PICNIC, Danito & Athina, ZIGER, Dale Middleton, Li-Polymer, Pysh, Nick Varon, ao..
The 149th release on Tash's Movement Recordings welcomes Dimuth K to the label for his debut EP. The Sri Lankan artist has become one of his country's hottest progressive house exports. An appearance on Max Graham's 'Cycles' 8 compilation got the year off to a great start and now Dimuth makes his much anticipated Movement Recordings debut with 'Abyssal / Achillea' alongside remixes from Emi Galvan and George Fil.
Long noted for his smooth, exhilarating style the lead selection 'Abyssal' might be one of Dimuth's most charming creations to date. Beginning with muted beats, atmospheric drifts and spacey electronics it's feast for the senses. As layers of percussion fill in the framework, subtle harmony's ebb and flow through the cosmic dust. Clocking in at just under two minutes the main break brings a spoken word storyboard, building drama and tension as harmonies shift and electronics sizzle, before a finale rush to the journey home. The companion piece 'Achillea' comes with the same wonderful atmospheric qualities but in a more techno inspired context. A rolling rhythmic core combined with timely builds and a cosmic break makes for a killer peak time construction and an excellent complement to 'Abyssal'.
The lone interpretation of 'Abyssal' is provided Emi Galvan who is making his second appearance on the label. The Argentinean artist first appeared on the Greek imprint in December of last year with a contribution to the labels 'Dynamic Visions' collection and has since been remixed by Quivver for Baroque Records. Now making a much welcome return to Movement, Emi puts his own unique spin on 'Abyssal', taking it into groovier more dance floor friendly territory. Anchored by beefy bass stabs and charged rhythms the piece moves with a vibrant energy as clap delays fade off in the distance. The main break is perhaps the emotional apex as gleaming motifs adorn the atmospherics, initiating a classy build, before a euphoric conclusion seals it's brilliance.
The lone interpretation of 'Achillea' is provided by George Fil who is making his fifth appearance on the label. The Greek artist has become an integral part of Movement Recordings in the last two years having compiled the 'Modern Filosphy' collection in 2015 and since going on to deliver an original and two remixes. Now making his much anticipated return George brings his unique vision to 'Achillea'. While staying true to the main themes from the original the Greek artist has brought a darker, more ominous sensibility to the record. Trippy arps play heavily over the storyboard while timely modulation provides just the right dramatic moments. An excellent remix from George and another fine offering from Tash's Movement Recordings. Don't miss it


Mastering by Movement Mastering
Release PR by Mitch Alexander
Promo Campaign by SMP3
Artwork by MJD Creative
Media by Split Atoms