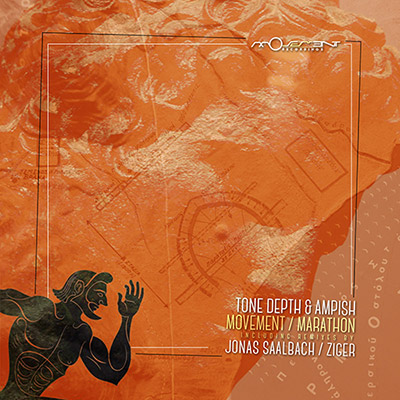 Artist: Tone Depth & Ampish
Title: Movement / Marathon
Remixer: Jonas Saalbach, Ziger
Release Date: 9 October 2017
Supported by: Kolsh, Betoko, Joris Voorn, Dubfire, Nick Warren, Onur Osman, Eelke Kleijn, Re:You, D-Nox, Robert Babicz, Darin Epsilon, Marc Marzenit, Jamie Stevens, BOg, Marc DePulse, Danito & Athina, Soundexile, Marcelo Vasami, Dale Middleton, Javier Orduna, Talul, Cid Inc, Sasch BBC, GMJ, Simos Tagias, Nick Varon, Graziano Raffa, ao.
The latest release on Tash's Movement Recordings finds the label showcasing a brand new EP from Tone Depth & Ampish. Hailing from Canada and Egypt respectively, both artists have enjoyed immense success in their solos careers. Famed for releases on Bedrock and his own Bad Pony imprint, Tone Depth remains one of Canada's most prominent progressive house artists. Similarly, Hazem Beltagui has quickly established his Ampish alias as one of Egypt's top progressive minded exports. Amidst much praise, the duo showcased their first collaborative work through Jerome Isma Ae's Jee Productions imprint in June of this year. Now stepping up to Tash's Movement Recordings, Tone Depth & Ampish present their hugely anticipated double a-side offering 'Movement / Marathon', alongside remixes from Jonas Saalbach and Ziger.
Beginning with 'Movement', Tone Depth and Ampish explore smooth, voluminous grooves and warm, velvety textures. Anchored by rippling waves of bass and a strong rhythmic core the piece flows effortlessly through hazy melodies and indistinct vocals. A drifting centrepiece along with tasteful modulation adds just the right amount of drama for a smooth yet exhilarating third act finale. The companion piece 'Marathon' comes in a touch bigger and more energetic. It's rolling groove brings drive as neatly tailored percussion and cascading motifs add perfectly to its sleek cadence. Clustered claps brighten up the main break before a filtered storyboard and wave of noise reignites the groove for a magical dance floor moment.
The lone interpretation of 'Movement' is provided by Jonas Saalbach who is making his first appearance on the label. Fresh off the release of his 'Perspective' album courtesy of Einmusika the Berlin based artist has continued on the cutting edge of melodic techno and deep house. His emotive creations have also found a home on John Digweed's Bedrock Records and Sol Selectas. Now making his much anticipated Movement Recordings debut Jonas puts his own unique twist on 'Movement'. Stripping the framework down, the German artist sculpts punchy beats and warm bass swells into a melodious foundation. Charming vocal edits add mightily to the storyboard before a near two minute interlude weaves kaleidoscopic arps and heavenly pads into a grandiose conclusion.
The release concludes with Ziger providing the lone interpretation of 'Marathon'. The Greek producer has become one of Movement's core artists in recent years while also finding a home on Hernan Cattaneo's Sudbeat Music and Guy Mantzur's Plattenbank Records. Now following his 'Faith In The Future' single from June of this year Ziger returns, closing the release out with an excellent rendition of 'Marathon'. Known for his pure progressive sensibilities, the Greek artist ups the intensity while maintaining the vibe and drive of the original. It's a heads down affair with a dark underbelly, razor sharp stabs and rugged rhythms carrying the journey to a stunning break. Crafted to perfection, the centrepiece is aimed squarely at a peak time dance floor, with tonal tension and a timely roll delivering an electric moment which closes the release out on a high note. Another top shelf offering from Movement Recordings that is not to be missed.