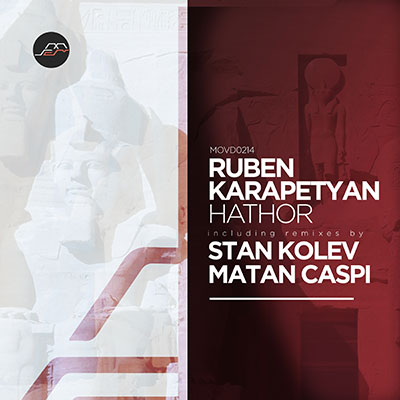 Artist: Ruben Karapetyan
Title: Gignesthai
Remixers: Stan Kolev, Matan Caspi
Release Date: 8 February 2021
Supported by: Paul Thomas, Citizen Kain, Dmitry Molosh, Haze-M, Aaryon, Ziger, Kamilo Sanclemente, Lonya, Tim Penner, Simply City, Eric Rose, Ezequiel Arias, Graziano Raffa, Steve Parry, Sonic Union, Weird Sounding Dude, Newman, ao
The latest release from Tash's Movement Recordings welcomes Ruben Karapetyan back to the label for a new single. The Armenia born; USA based artist made a triumphant return to electronic music in November of last year. Following a ten-year hiatus Ruben's Movement debut 'Gignesthai' delighted progressive house fans with its combination of musicality and groove. Now continuing to build momentum, Ruben returns to Movement Recordings with 'Hathor' alongside remixes from Stan Kolev and Matan Caspi.
Ruben's ability to craft expressive musical journeys continues to shine on 'Hathor'. Smooth yet muscular, its shapely groove is carved to perfection with rolling undulation driving momentum forward. Developing in waves across the first movement; ethereal phrasing, buoyant arps and exotic drums fill in the framework, before a short break shifts the narrative into mystical territory. Wondrously musical, melodic fragments flow through the centrepiece, conjuring up cross cultural visions, eventually giving way to a tasteful crescendo and rousing finale.
The first interpretation of 'Hathor' is provided by Stan Kolev who returns to the label for his third appearance. Following his Movement debut in June of 2018 with a remix of 'The Swarm' by Marc DePulse, Stan returned to the label last year with a rousing rendition of Ruben Karapetyan's debut 'Gignesthai'. Long a staple in Beatport's progressive house charts, Stan is one of the most prolific and consistent artists in the genre's history. Now following an impressive 2020 which saw the Miami resident land on Sudbeat Music, UV and his own Outta Limits imprint, Stan returns to Movement once again with a powerful take on 'Hathor'. Always a creative remixer, Stan deconstructs the main elements into fragmented themes for what sits as an ideal complement to the original. Atop a warm, full bodied groove comes dynamic percussion, vocal overlays and vibrant arpeggios. It's a remarkable sonic marriage and one which makes for an energetic yet meditative journey, elegantly peaking as muted beats rise across the main break, cueing a cavernous drop and driving final movement.
Rounding out the release with the second and final interpretation of 'Hathor' is Matan Caspi who returns to the label for his second appearance. June of 2017 marked the Israeli artist's Movement Recordings debut with a well received remix of Ziger's 'Faith In The Future'. Now a constant in Beatport's progressive house charts with releases via his Outta Limits imprint, Matan makes a welcome return to Movement with a huge rendition of 'Hathor'. Encased in an electric shell, it's reshaped groove and rhythmic pulses are vibrant, building momentum as waves of effects and rolling percussion elevate mood towards the main break. Dubbier than its predecessors, atmospheric overlays and hazy harmonics add further intrigue as the centerpiece unfolds, before a rush of drums sparks a commanding drop and percussive finale. A stunning remix from Matan which rounds out a superb offering from Tash's Movement Recordings, continuing a strong start to 2021 for the Greek imprint. Highly recommended.