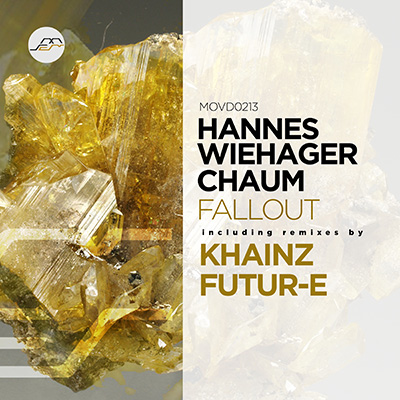 Artist: Hannes Wiehager & Chaum
Title: Fallout / Heliodore
Remixers: Khainz, Futur-E
Release Date: 24 January 2021
Supported by: BLANCAh, Jerome Isma-Ae, Citizen Kain, Gai Barone, Mike Koglin, Chris Fortier, Animal Picnic, Lonya, Aaryon, Steve Parry, Emi Galvan, Ziger, Weird Sounding Dude, Tash, Peter Makto, Mariano Mellino, Nicolas Rada, Newman, Eric Rose, Mike Griego, Steve Marx, RIGOONI, Amber Long, Ewan Rill, Forniva, Wolfear, Jesse Kuch, Dj Ruby, Sanjay Dutta, ao
Our latest release on Movement welcomes Hannes Wiehager & Chaum back to the label for their debut EP. Having first appeared in 2018, Swedish artist Hannes Wiehager has amassed an impressive resume, finding a home on Beatfreak Limited, Manual Music and Stripped Recordings. Greek producer Angelos Moutsai aka Chaum has enjoyed a similar rise to success since making his debut in 2016. Releases via Hoomidaas, One Of A Kind and RYNTH have been vehicles for his darker take on melodic house and techno. As frequent studio partners in the past, Hannes and Chaum first appeared on Movement in July of last year with a contribution to the label's popular 'Technical Progress' series. Now as 2021 gets underway the duo make a welcome return with 'Fallout' alongside remixes from Khainz and Futur-E.
Beginning with the title selection the duo explores both astral and emotive narratives. Warm beats and a rippling groove sit at the foundation, creating a cavernous vibe, while growling synth lines, tight arps and electric rhythms fill in the framework. Shifting energy into the main break, the narrative moves into emotive territory with the introduction of a ghostly vocal, running through mind bending modulation, as cosmic effects steal the air, before setting up a powerful drop and purring finale. The companion piece 'Heliodore' follows a similar sonic ethos and sits as a perfect complement to its predecessor. Its mysterious framework houses a rolling groove, striking effects and buoyant drums. Cinematic pads and crunchy arps drive momentum into the break, eventually unveiling a spoken word vocal narrative. Pitch shifted and roboticized, the intriguing phrases drift across the framework, as dystopian soundscapes provide the perfect segue into an effects driven final movement.
Returning to the label and providing the first interpretation of 'Fallout' is Khainz. As one of Switzerland's most recognized electronic music artists, the Luzern resident has found a home on Heinz Music, Iboga Records, Sprout and YoshiToshi. Also a regular on the European festival circuit, Khainz remains one of his country's most sought after DJs, having played Boom Festival, Rainbow Serpent and others. Having first appeared on the label in 2012 with a remix of Dousk's 'Akiki', Khainz now returns with a powerful rendition of 'Fallout'. Through distinctive design and heady sonics, the Swiss artist has crafted an excellent complement to the original. A chunkier groove, astral sonics and exotic drums play off each other wonderfully, while a storyboard of cosmic effects advances the narrative. More emotive than its predecessor, the main break opens up into a glowing reservoir of sound, allowing the vocal to breathe and delight, before pushing onwards to a groovy finale.
The second and final interpretation of 'Fallout' is provided by Futur-E who returns to the label for his second appearance. As the Movement Recordings label manager, the Greek artist first appeared on the imprint in March of 2020 with a contribution to the 'Technical Progress, Vol.10' collection. With a career that now spans nearly a decade, Futur-E has compiled an impressive resume, landing releases on Mango Alley, MNL, Stellar Fountain and Traum, where his unique take on melodic house & techno has flourished. Now getting 2021 off to a great start the Eleusis resident delivers an inspired take on 'Fallout'. Drawing on the sensibilities of the original the Greek artist leans in a sleeker more techno-oriented direction. Machine gun beats bounce with a vibrant energy, while phasing rhythms and sweeping effects provide a compelling cosmic architecture. Spacious yet powerful across the first act, wispy vocals strike at opportune moments, trailing through the framework before tightly wound arps transfer energy into the break. Cascading electronics marry processed vocals as the centrepiece unfolds, eventually melting down to a tasteful roll and commanding drop. An inspired remix from Futur-E which caps off another excellent offering from Tash's Movement Recordings.