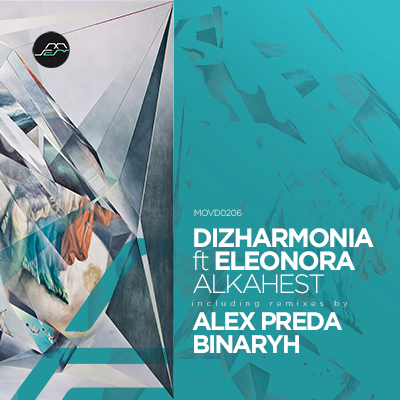 Artist: Dizharmonia ft Eleonora
Title: Alkahest / Erevos
Remixers: Alex Preda, Binaryh
Release Date: 28 September 2020
Supported by: Eelke Kleijn, Miss Melera, Marc DePulse, Steve Parry DJ, Paul Thomas, Lonya, DJ Jaap Ligthart, Aaryon, Paul Anthonee, Haze-M, Wurtz, Mitch de Klein, Mike Griego, Nick Varon, DJ Zombi, ao
The latest release from Tash's Movement Recordings welcomes Dizharmonia back to the label with a new EP. Hailing from Athens, the Greek duo first appeared on the label in February of 2018 with their well received 'Trigonon' EP. 2019 then saw Dizharmonia return to Movement, delivering a stunning remix of Wielki's 'Excelsior'. Firmly established in the world of melodic house and techno, the duo lays claim to an impressive resume, highlighted by releases on Beatfreak Recordings, Steyoyoke, Stil Vor Talent and Timeless Moment. Now making a welcome return to Movement, the duo presents their 'Alkahest' EP alongside remixes from Alex Preda and Binaryh.
Continuing to diversify their portfolio, Dizharmonia join forces with Eleonora on the title and showcase piece 'Alkahest'. Once again operating at a creative peak, the Greek duo crafts an astral storyboard of punchy beats, striking electronics and fiery percussion. It's this dramatic concoction which perfectly sets the stage for Eleonora's heavenly vocals. Ghostly and emotive in equal measure, they descend over the pulsating framework, while sections of cosmic effects advance the storyboard. Shifting further into poignant territory the grandiose break delivers just the right combination of tension and emotion, before a wall of glassy arps provide an energy bridge into a purring finale. Also included is a 'Deeper' version by the duo which will most certainly broaden the track's reach among cutting edge DJs.
The cosmic techno vibes of the companion piece 'Erevos' are perhaps an ideal complement to its predecessor. Electric and rolling, the undulating framework gets adorned with spastic synths, percussive flurries and astral artifacts. It's psychedelic presence quickly becomes enlightening, as timely transitions and a dramatic break elicit a poignant response, before an effervescent crest transfers energy into an evocative final act.
The first interpretation of 'Alkahest' is provided by Alex Preda who makes his label debut. Born and raised in Bucharest but now based in Amsterdam, the Romanian artist has etched out a unique place in the electronic underground. Often sitting in the creative space between progressive house and techno, Alex has showcased his music on Bedrock, DAYS like NIGHTS, Oddity and Parquet Recordings while earning the support of Adriatique, John Digweed, Pete Tong and Sasha. Now following an EP for Einmusika, Alex makes his Movement Recordings debut with a creative take on 'Alkahest'. Drawing on the sensibilities of the original the Amsterdam resident leans in a more techno minded direction, with a reworked groove and spacious rhythmic core. Fragmented arps and tonal tension make for a dramatic first act, perfectly setting up impactful vocal sections leading into the break. Cinematic in scope, the centrepiece eventually melts down to a symphonic synth display, elevating mood as fiery electronics and a buzzing roll cue an exhilarating final movement.
The second and final interpretation of 'Alkahest' is provided by Binaryh who also make their label debut. The Brazilian duo found success early on in their career with a string of releases on Steyoyoke's 'Black' division before later landing releases on Timeless Moment and Sprout. Now regularly appearing in the sets of trendsetting DJs such as Tale of Us, Adriatique, Fideles, Fur Coat, Nicole Moudaber and Kevin de Vries; Binaryh debut on Movement Recordings with a heady interpretation of 'Alkahest'. Quickly becoming infectious, its triplet core is driving and buoyant, layered with processed vocals and astral synths. Concise and perfectly timed, the main break drifts further into emotive territory, meditative at moments and striking at others, as breathy wails pierce the air, perfectly playing off hopeful atmospheres, before getting washed away in a trail of sonic sorcery. A stunning remix from Binaryh, rounding out another great offering from Tash's Movement Recordings.