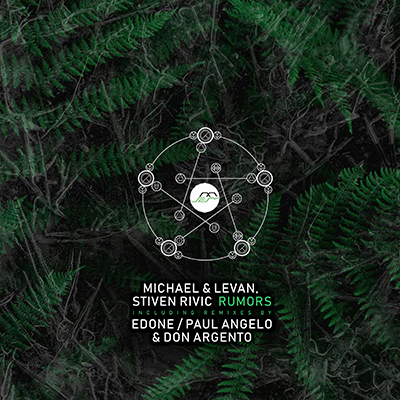 Artist: Michael & Levan, Stiven Rivic
Title:  Rumors
Remixers: EdOne, Paul Angelo & Don Argento
Release Date: 16 September 2019
Supported by: Armin van Buuren​, Nicole Moudaber​, Karmon (Official)​, Cid Inc​, Aaryon​, ANIMAL PICNIC​, Tim Penner​, Max Graham​, Miss Melera​, Paul Anthonee​, Tash​, Kasper Koman​, Mariano Mellino​, Kamilo Sanclemente​, Lonya​, Nicolas Rada​, SASCH BBC​, Mike Griego​, Paul Hazendonk​, Huminal​, Luke Brancaccio​ ao.

Tash's Movement Recordings welcomes Stiven Rivic and Michael and Levan back to the label for a new EP entitled 'Rumors'. The much loved trio have been a core part of the Greek imprint since making their debut in 2012 with a contribution to the label's 'Technical Progress' Vol. 2 collection. Michael, Levan and Stiven have since gone to appear an additional ten times while also finding a home on Beatfreak, Flow Vinyl, ICONYC, Perfecto and their own Kunai imprint. Now landing back on Movement for the first time in almost three years the trio present a new two track EP alongside remixes from EdOne and Paul Angelo and Don Argento.
Beginning with the title track 'Rumors' Stiven, Michael and Levan move into deeper territory with a warm spacious groove, smooth rhythms and clusters of dreamy tones. It's both alluring and mysterious with a flair for the dramatic, particularly across an expansive first act, as layers of percussion build and bulbous stabs steal the air. An electric lead flows nicely into a short interlude, resetting the groove for a more unique cadence, while the main break elevates the narrative into astral territory. The companion piece 'Incognito' finds the trio exploring the hypnotic sensibilities they've become so loved for. It's rolling groove is perfectly carved, adorned with plucky hooks, fiery percussion and meditative arps. Smooth and dubby across the first act, it eventually opens up into an astral storyboard as a wave of sonic artefacts segues perfectly into a groovy finale.
The lone interpretation of 'Rumors' is provided by EdOne who makes his label debut. The Spanish artist lays claim to an impressive discography highlighted by releases on Beatfreak, Stil Vor Talent, Selador and Suara. Now making his much anticipated Movement Recordings debut, the Cadiz resident puts a unique twist on 'Rumors'. Setting the piece in motion is a bed of broken beats and rippling bass tones. Airy pads elevate mood as layers of exotic percussion flow through the framework. Poignant tones and percussive flurries continue to bend the narrative, adding emotion and tension, before the main break and impactful drop shift energy into euphoria's top floor.
The release concludes with label artists Paul Angelo and Don Argento returning for their fifth appearance. 2019 has seen the Cyprus based duo compile the second volume of the Greek imprint's 'GLBLMVMT' series while also delivering their first EP 'Hephaestus'. Now fresh off releases for Soundteller Records and Yin:Yang, Paul and Don return to Movement with a stunning interpretation of 'Incognito'. Anchored by a driving groove, the Cyprus duo's rhythmic drum work and fluid electronics build a strong cadence. Acidic designs add a flair for the dramatic, while percussive splashes and esoteric tones perfectly segue into the main break. Spanning nearly a minute in length, the interlude is one of introspection, backed by a solemn air and laced with buzzing designs, it effortlessly shifts energy into a pulsating finale. Another inspired remix from Paul and Don which caps off another excellent offering from Tash's Movement Recordings. Don't miss it.