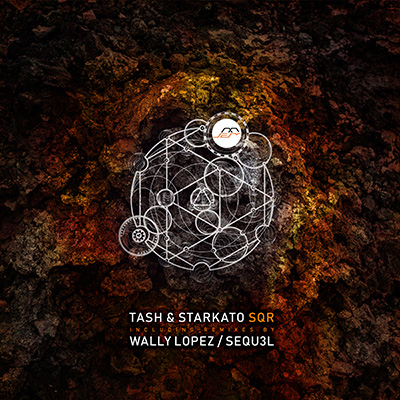 Artist: Tash, Starkato
Title:  SQR / The Bash
Remixers: Wally Lopez, SEQU3l
Release Date: 19 August 2019
Supported by: Hernan Cattaneo, Paul Thomas, Eelke Kleijn, Cid Inc, Darin Epsilon, Jos & Eli, Steve Parry, Jonas Saalbach, Paul Anthonee, EdOne, Marc DePulse, Miss Monique, Antrim, Luca Guerrieri, Matthias Schuell, Mariano Mellino, Ezequiel Arias ao.

The latest release from Movement Recordings finds label boss Tash presenting his debut collaborations with Starkato. Greek artist and Movement boss Tash has continued to deliver cutting edge productions in 2019, most recently his cosmic romp 'Future Funk' was released alongside fellow Movement artist Dousk. Similarly Starkato has had a great year, highlighted by well received releases for Asymmetric Recordings, Beatfreak Recordings and Somatic Records. Now returning to Movement he joins forces with label boss Tash for a two track EP entitled 'SQR' alongside remixes from Wally Lopez and SEQU3l.
Both Tash and Starkato are much loved for their exploration of all things progressive and techno. The meeting of two such creative minds is always an exciting prospect and they deliver two stunning pieces of music beginning with the title selection 'SQR'. Punchy and dynamic from the outset, it's electric groove provides a large presence while astral arps and rugged bass tones fill in the framework. Stripping down into the break, a second arp fades to prominence, building anticipation before gritty bass tones set up a huge drop. The companion piece 'The Bash' flows through a plethora of emotions across its eight minute running time. Beginning with a dark, ominous vibe the creation evolves through wavering synth motifs, exotic percussion and squelchy swells. Perhaps a touch deeper and more emotive than its predecessor, it's a poignant yet tense centrepiece which steals the show, flowing through unique design qualities and redolent hooks, which ultimately sets up a charming final act.
The lone interpretation of 'SQR' is provided by Wally Lopez who makes his label debut. The Spanish artist has been a fixture of the electronic underground for over two decades, having travelled the world showcasing his DJ skills while also landing releases on Beatfreak Recordings and Selador. Now making his much anticipated Movement Recordings debut he provides a powerful rendition of 'SQR'. Taking a cue from the original, Wally strips the framework down for a tough yet spacey cut primed for dance floor destruction. The boundless first act creates a dark narrative which opens up an emotional reservoir during the main break. Reflective yet astral it's a unique centrepiece which perfectly sets up a cosmic finale.
The release concludes with Movement Recordings artist SEQU3l return to the label and providing the lone interpretation of 'The Bash'. As one of India's premiere progressive house talents, the Pune resident lays claim to a meticulous discography, highlighted by releases on Beat Boutique, Beatfreak Recordings and Perfecto Black. Now presenting his first remix of the year SEQU3l returns to Movement with a stunning rendition of 'The Bash'. The transcendent energy from the original translates really well with a crunchy, rippling low end ultimately setting the pace. The astral qualities have been reprocessed with a gorgeous effervescent sheen, while the main break adds just the right amount of drama to make a buzzing drop hugely impactful. A superb remix from SEQU3l which caps off another must have release from Tash's Movement Recordings.