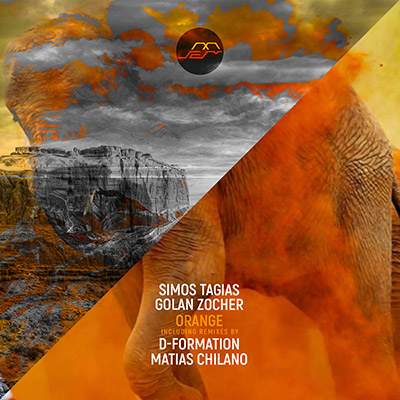 Artist: Simos Tagias & Golan Zocher
Title:  Orange
Remixers: D-Formation, Matias Chilano 
Release Date: 10 June 2019
Supported by: Hernan Cattaneo, Nick Warren, Guy Mantzur, Amber Long, Marc DePulse, Cid Inc, Chris Fortie, Moshic, Animal Picnic, Khen, Olivier Weiter, Matan Caspi, Lonya, Grazziano Raffa, Mariano Mellino, Dmitry Molosh, Nick Varon, Marcelo Vasami, Mike Griego, Miss Melera, Betoko, Paul Thomas a.o.

The latest release from Tash's Movement Recordings finds the label showcasing a first time collaboration from Simos Tagias and Golan Zocher. Hailing from Greece and no stranger to Movement is Simos Tagias. The Serres resident has been a primary contributor to the Greek imprint while also finding a home on Hernan Cattaneo's Sudbeat Music, DJ Zombi's Beat Boutique and US conglo merate Proton Music. Conversely, Colombian born, Israel based Golan Zocher makes his label debut but with a similar pedigree, having showcased his music on Guy Mantzur's Plattenbank Records, Antrim's Or Two Strangers and Paul Hazendonk's Manual Music. Now coming together for the first time, Simos and Golan present their debut collaboration 'Orange' alongside remixes from D-Formation and Matias Chilano.
From the opening bars of 'Orange' you get an immediate sense of how strong the creative synergy between Simos and Golan is. It's warm, rippling low end is full of character and contour, while buoyant drums and lively percussion operate in organic space. As the narrative evolves buzzing synths and vocal fragments drift through the framework before segueing into a spacious break. Stretching almost two minutes in length it's vibrant electronics and gaseo us motifs sit in perfect sonic harmony, before timely chord changes and tasteful modulation unite for a dynamic drop.
The first interpretation of 'Orange' is provided by D-Formation who makes his label debut here. The Spanish artist has been a fixture of the electronic underground for over two decades. Appearances on Suara, Einmusika and his Beatfreak Recordings imprint highlight his discography, as he continues to travel the globe delighting fans with his groovy, melodic sound. Always a consummate remixer, D-Formation makes now makes his 2nd appearence on Movement Recordings with a stunning rendition of 'Orange'. Taking a cue from the original while adding a techno state of mind, the Spanish artist carves out a dynamic groove adorned with astral sonics, firing drums and fresh rhythmic themes. Ethereal overlays, percussive flurries and tightly wound arps push the momentum forward, before melting down into a cavernous break. Emotive yet tense, the one minute centrepiece is a sensory delight, with its cinematic flair, vibrant tonal theme and methodical build ending in a trail of sonic decay and a striking re-entry. A massive remix from the Beatfreak boss.