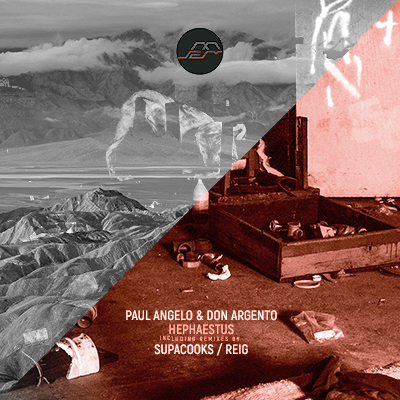 Artist: Paul Angelo & Don Argento
Title:  Hephaestus
Remixers: Supacooks, 
Release Date: 27 May 2019
Supported by: Black Coffee, Chris Fortier, Beckers, Undercatt, Lonya, Nicolas Rada, Μike Griego, Darin Epsilon, Dmitry Molosh, Antrim, Tash, Jorgio Kioris, Paul Anthonee, Dale Middleton, Fractal Architect, Tripswitch, GMJ, Nick Varon, Sonic Union, Max Graham, Soulwerk, Li-Polymer, Pedro Mercado, Paul Hazendonk, Matias Chilano, Ezequiel Arias, Grazziano Raffa a.o.

Paul Angelo and Don Argento return to Tash's Movement Recordings for their debut EP entitled 'Hephaestus'. The Cyprus based duo first appeared on the Greek imprint in July of 2017 with a contribution to the label's 'Technical Progress, Vol. 7' collection. May of 2018 saw the much loved duo return with a well received remix of SEQU3L's 'Jelly Bells'. 2019 has seen Paul and Don continue to rise with steady support from Hernan Cattaneo and Nick Warren, along with key releases on Clubsonica Records, Dopamine Music and Soundteller Records. Now embarking on the most anticipated project of their career, Paul and Don return to Movement Recordings for their debut EP alongside remixes from Supacooks and Reig (FR).
Beginning with 'Entrance of the Underworld' moves into darker territory with a boundless groove, charged rhythms and clusters of devilish percussion. Aptly titled, it's both foreboding and mysterious with a flair for the dramatic, particularly across an expansive and hugely impactful break. Rough, rugged and full of amazing sonic artefacts, it's a centrepiece to unite your crowd before taking them to euphoria's top floor.
At the companion piece 'Hephaestus', Paul and Don explore the peak time progressive sensibility that they've become so loved for. It's tough, rolling groove is perfectly carved, adorned with fiery percussion and timely chord changes. Smooth and emotive across the first act, eventually leading to a buzzing break where a bed of sizzling electronics elevates tension and mood, before a classy peak sparks an epic finale.
The lone interpretation on 'Entrance of the Underworld comes by Supacooks. The Armenian duo have been a staple of Beatport's Progressive House charts for some time. A string of well received releases for Beatfreak Recordings, Dear Deer, Parquet Recordings and Timeless Moment have made them one of hottest production duos of the moment. Now making a welcome debut on Movement Recordings, Supacooks deliver a superb rendition of 'Entrance of the Underworld' to cap the release off in style. Setting the piece in motion, a foundation of tight beats and percussive waves merge for the ultimate hypnotic roll, while a narrative of metallic designs cuts through the atmosphere for a temperamental ride. Otherworldly in nature, the first of two breaks introduces an astral arp, shifting the narrative further into cosmic territory. Delightfully hypnotic it's creates a second act bridge into a tension filled final break, complete with acidic themes and an icy cinematic flair, before a classic roll and tasteful modulation meet in an exhilarating apex. A brilliant remix from Supacooks!
The release concludes The lone interpretation of 'Hephaestus' is provided by Reig who makes his label debut. Residing in Corsica, the French artist has been crafting a unique brand of melodic techno since first appearing in 2013. Releases on Aftertech Records, Steyoyoke and Traüm Schallplatten highlight his discography, while he remains a prominent figure in his country's nightlife, having performed alongside Agoria, N'to, Worakls, Etienne de Crécy and Simian Mobile Disco. Now making his Movement Recordings debut, Reig provides a stunning rendition of 'Hepheustus'. Backed by a tight groove, the French artist's detailed drum work and quirky melodic concepts quickly appease the senses. Metallic designs add a flair for the dramatic while emotive chord changes and lively storyboard set up the main break perfectly. The timely interlude is not only concise but a feast for the senses as well, as it ebbs and flows through cinematic soundscapes and astral themes, before a tasteful drop sparks an exhilarating finale, which rounds out another must have release from Tash's Movement Recordings.