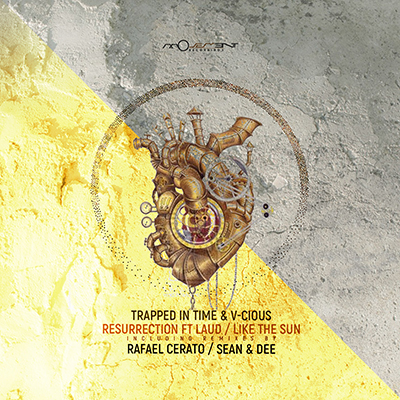 Artist: Trapped In Time, Vicious ft LAUD
Title:  Resurrection / Like The Sun
Remixers: Rafael Cerato, Sean & Dee
Release Date: 28 January 2019
Supported by: Nicole Moudaber, Dubfire, Luigi Madonna, Nick Warren, D-FORMATION, Quivver, Eelke Kleijn, Armen Miran, Paco Osuna, Verlk, Dale Middleton, Cid Inc, Simos Tagias, Sezer Uysal, Paul Sawyer, Be Svendsen, Interaxxis, Several Definitions, Aaryon, BOg, MATAN CASPI, Darin Epsilon, Graziano Raffa Dj, ao

The latest release from Tash's Movement Recordings finds the label presenting the debut collaborative project from Trapped In Time and V-CIOUS. Hailing from Thessaloniki, Greece and heading up the excellent Us and Them imprint is Trapped In Time. The Greek artist owns a short but meticulous discography highlighted by releases on Steyoyoke and Three Hands Records. Also making his Movement Recordings debut is Carlos Aguirre aka V-CIOUS. Hailing from Quito, Ecuador, Carlos first conceptualized the V-CIOUS moniker in 2012. 2015 yielded a breakthrough moment with Carlos winning the Upon.You Records remix contest, surpassing more than 250 entries. It not only landed him a release on the label but led to further projects on KDB Records and Parquet Recordings. Now coming together for the very first time, Trapped In Time and V-CIOUS present their debut EP alongside remixes from Rafael Cerato and Sean and Dee.
Beginning with 'Resurrection' you get a feel for just how strong the creative synergy between these two talents is. Featuring the vocals of LAUD, Trapped In Time and V-CIOUS craft a foundation of tight beats, crunchy design and astral synth motifs. It's growling low end is full of character and drama, positively charged and perfectly playing off LAUD's distinct and otherworldly vocals. Coming to full fruition during the main break, a haze of drifting vocals and ethereal design converge in a perfect sonic marriage before effortlessly transitioning into a stripped back finale. The companion piece 'Like the Sun' follows suit with its ominous yet exhilarating energy. Darker undertones power the machine gun like groove while esoteric stabs and timely tonal shifts should make for some epic dance floor moments. Distinctive vocals speak in a prophetic manner, carrying the narrative into an acid fueled second act before shifting mood once more with a poignant final break.
The lone interpretation of 'Resurrection' is provided by Rafael Cerato who is making his label debut. Famed for releases on Beatfreak Recordings, Diynamic, Stil Vor Talent and Systematic, the French artist has been crafting cutting edge dance floor creations for the better part of a decade. Perhaps long overdue, he now makes his Movement Recordings debut with a stellar rework of 'Resurrection'. Aptly coined 'Afro' Mix, Rafael stays quite true to the primary themes from the original while adding an assortment of organic drums and swing heavy rhythms. Building in waves, tension rises to a premium before dropping out as the vocal gets introduced for what should be a magical dance floor moment. Clever transitions in conjunction with shifts in energy and space make for an exciting and ever-evolving astral storyboard. Masterful work from one of the scenes brightest talents.
The release concludes with Sean and Dee providing the lone interpretation of 'Like the Sun'. Also making their Movement Recordings debut, the Italian duo have impressed since forming their partnership in 2017. Key releases on Beatfreak Recordings, Dear Deer, Glasgow Underground and ICONYC Noir have established them as one of progressive music's most promising new duos. That momentum continues as they deliver a stunning rendition of 'Like the Sun' to round the release out in style. Taking a cue from the original while adding a progressive state of mind, the duo carve out a groove adorned with feathered sonics, firing drums and fresh rhythmic themes. Ethereal overlays and tightly wound arps push the momentum forward before melting down into a cavernous break. Tension filled, the one minute centrepiece is one of many highlights, with its cinematic flair and methodical build ending in a trail of sonic decay and a striking re-entry. A stunning remix from Sean and Dee who are certainly a duo to keep a close eye on as 2019 continues. It rounds out another fresh and inspired release from Movement Recordings, who continue to explore exciting new territory.