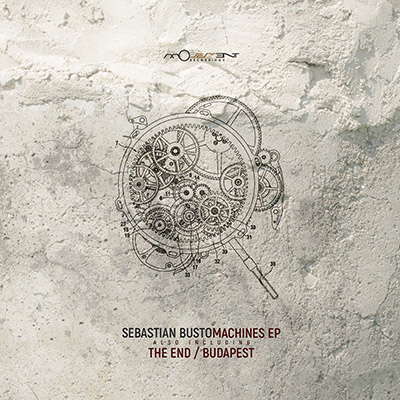 Artist: Sebastian Busto
Title:  Machines EP
Release Date: 3 December
Supported by: Luigi Madonna, Dubfire, Steve Lawler, Eelke Kleijn, Yotto, Roger Sanchez, Darin Epsilon, Aly & Fila, Lonya, David Granha, Roger Martinez, Paul Thomas, K.A.L.I.L., MUUI, Tripswitch, Mononoid, Marc DePulse, Kaiser Souzai, Javier Orduna, GMJ, Dale Midleton, Miss Melera, Emi Galvan, ao
Tash's Movement Recordings kicks off 2019 by welcoming Sebastian Busto to the label for his debut EP. Known for his pure progressive sound the Buenos Aires resident has become a favourite of Hernan Cattaneo and Nick Warren, having appeared in the sets of the legendary DJs on multiple occasions. The Argentinean artist also lays claim to an impressive discography, highlighted by releases on Sudbeat Music and The Soundgarden. Now making his much anticipated Movement Recordings debut, Sebastian presents his 'Machines' EP.
Beginning the title cut Sebastian explores the deeper side of his studio repertoire. Free and flowing from the outset it's well carved low end provides momentous swing while quirky hooks and timely vocal gates fill in the framework. Stripping down into the main break, the vocal narrative expands, opening up a spiritual reservoir before effortlessly shifting energy into a buoyant finale act.
The second selection 'The End' follows a similar sonic ethos with a leaning into pure progressive territory. Beginning with a warm, rolling groove the piece moves with discernible momentum as layers of drums and rugged rhythms converge for a hearty rhythmic core. Charming vocal gates and elegant atmospheres flow beautifully into an emotive centrepiece, as mounds of bass build a subtle tension, while ghostly pads and hopeful overlays fully saturate your pleasure centres. An impassioned creation from Sebastian.
The release concludes with 'Budapest' which presents a myriad of emotions across its nine minute journey. Beginning with a dark, ominous vibe the creation evolves through mounds of bass, waves of percussion and cross cultural motifs, eventually transitioning into an emotive state of mind. Poignant keys and wispy atmospherics elevate the mood during a second act bridge, before melting down into an otherworldly centrepiece led by a spiritual vocal, perfectly setting up a cosmic finale. It rounds out a superb Movement Recordings debut for Sebastian, setting up what should be an incredible year for the talented Argentine. Highly recommended.