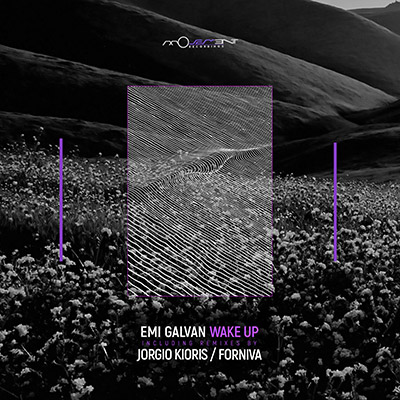 Artist: Emi Galvan
Title:  Wake Up / Dopamine
Remixers: Jorgio Kioris, Forniva
Release Date: 5 November
Supported by: Dubfire, Paco Osuna, Luigi Madonna, Steve Lawler, Petar Dundov, Eelke Kleijn, BOg, Jonas Saalbach, Definition, Marc DePulse, Be Svendsen, Kaiser Souzai, Aly & Fila, Ziger, Lonya, Tripswitch, Matt Darey, Roger Sanchez, Anthony Pappa, ao
The latest release from Tash's Movement Recordings welcomes Emi Galvan back to the label for a brand new EP entitled 'Wake Up'. The Argentinean artist has found a comfortable home on the Greek imprint since making his debut in December of 2012. A controlled release schedule coupled with creative excellence has always made the demand for Emi's music quite formidable. Now following an excellent remix for Huminal, the Argentine returns to Movement for a brand new EP alongside remixes from Jorgio Kioris and Forniva.


Beginning with the title track Emi's rich musical background becomes readily apparent as he crafts a dance floor creation for the ages. Built around a romping, funk filled groove it's the melodic narrative which eventually grabs a hold of you. Delicate and emotive, it's poignant themes evolve subtly into a wall of soulful harmonies and vibrant colour. A well crafted break is the icing on the cake with a drummy, tension filled build that is sure to capture the full attention of your dance floor. The companion piece 'Dopamine' proves to be the perfect complement with its wonky, modern flare. It's bulbous beats and hearty groove command a big presence at the outset before a kaleidoscopic theme quickly takes you into hypnotic territory. Complementary harmonies play off the esoteric motifs, eventually reaching an emotive apex during the main break, paving the road to an exhilarating finale.

The lone interpretation of 'Wake Up' is provided by Jorgio Kioris who is making his label debut. The Greek artist and Bloque Festival founder has grown into one of his country's top progressive house talents. Releases on Cid Inc's Replug Records and Lonya's Asymmetric Recordings highlight his discography, while Hernan Cattaneo remains a steadfast supporter of his music. Now making his much anticipated Movement Recordings debut Jorgio delivers a pure progressive take on 'Wake Up' that sounds tailor made for peak time play. Beginning with a buoyant kick and galloping groove, the Greek artist slowly works in hopeful harmonies and astral effects. Dynamic claps and wispy overlays only enhance its electric nature, perfectly transitioning the piece into a rousing conclusion.

The release concludes with Forniva making his label debut and providing the lone interpretation of 'Dopamine'. In addition to releases on Proton's Particles and Paul Hazendonk's MNL, the Bosnian artist has been a primary contributor to Mirabilis Records where he also acts as label AandR. His contemporary take on house music is renowned throughout the underground and he's delivered a stunning interpretation of 'Dopamine' which rounds the release out in style. The main theme translates beautifully amidst a barrage of percussive flurries and siren-like wails, before reshuffling during a smooth third act finale. A stunning interpretation from Forniva which rounds out a another excellent offering from Tash's Movement Recordings. Don't miss it.