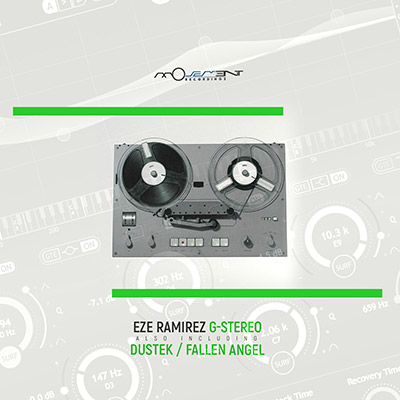 Artist: Eze Ramirez
Title:  G-Stereo
Release Date: 8 October
Supported by: Dubfire, Luigi Madonna, Paco Osuna, Eelke KleijnKOLLEKTIV TURMSTRASSE, Frankey & Sandrino, Marc Marzenit, Tripswitch, Nick Warren, Cid Inc, Marc DePulse, ZIGER, BOg, Aly & Fila, Jonas Saalbach, Silicone Soul, Lonya, Black 8, ao
The latest release from Tash's Movement Recordings welcomes Eze Ramirez to the label for his debut EP. Hailing from the progressive music hotbed of Buenos Aires, the Argentinean artist has been a favourite of Hernan Cattaneo and Nick Warren since arriving on the scene five years ago. Now following releases on Sound Avenue and Soundteller Records, Eze makes his much anticipated Movement Recordings debut with 'G-Stereo'. 
Beginning the title cut Eze explores his pure progressive roots with a driving, mystical creation primed for dance floor destruction. Waves of undulating bass power the foundation while electric stabs and cross cultural vocals fill in the framework. A strong percussive complement builds momentum, before stripping down into a timely break, where a wave of noise adds dramatic flair as the wailing vocal summons the beats for a massive drop. 
The second selection 'Dustek' begins with powerful beat layering and a rippling underbelly. Moving with deliberate momentum, layers of drums and rugged rhythms converge for a hearty rhythmic core. Timely modulation plays out over the first act, shifting energy with stunning effects and clever transitions, before one final break takes you further into the vortex. A no nonsense, heads down groover from Eze.
The release concludes with 'Fallen Angel' which finds Eze exploring a deeper side of his repertoire. The tempo comes down and the groove opens up as blissful atmospheres and meditative arps coverage for the ultimate late night jam. Reflective in tone and timeless in execution it rounds out a spectacular artist showcase from Eze, who makes his Movement Recordings debut a highly memorable one.