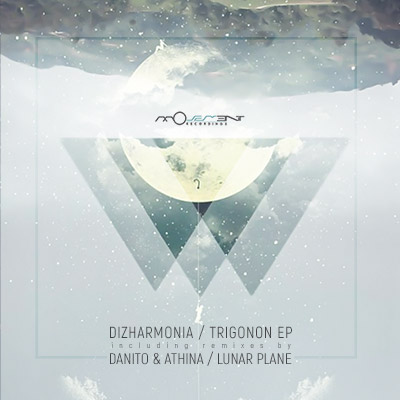 Artist: Dizharmonia
Title: Trigonon EP (incl. Devir, Espera)
Remixers: Danito & Athina, Lunar Plane
Release Date: 12 February 2018
Supported by: Dubfire, Paco Osuna, Cid Inc, Darin Epsilon, BOg, Alex Schaufel, Marc DePulse, Rafael Cerato, DAVI, Paul Thomas, Agent!, Chris Fortier, Ilona Maras, Sasch BBC, Simply City, Simos Tagias, Nick Varon, Javier Orduna, Maydan, Namatjira, Interaxxis, Kohra, Lonya, ao
The 158th release on Tash's Movement Recordings welcomes Dizharmonia to the label for their debut EP. Hailing from Athens, Greece, the duo's unique blend of progressive and techno has seen them appear on a wide array of esteemed imprints including Stil Vor Talent, and Ritter Butzke Studio. Now making their much anticipated Movement Recordings debut, Dizharmonia presents their 'Trigonon' EP alongside remixes from Lunar Place and Danito & Athina.
Spread out across three compositions it's the title track 'Trigonon' which gets the EP underway. Backed by a tough yet meditative groove it's prophetic mood is both ominous and inviting. Intricate electronics, bassy rumblings and a twisted, squirrely lead make for a cosmic first act, before a dramatic break resets the groove for a stellar finish. 'Devir' follows suit with similar and equally dazzling design qualities. From its brooding beginnings to an electric second act it's a metallic, modular storyboard tailor made for a dark floor. The final original 'Espera' strips things down for a punchier, more minimalistic vibe. It's spacey qualities spark the imagination, while menacing stabs and lively rhythms unite for a unique cadence to carry you further into the night.
The lone interpretation of 'Trigonon' is provided by Lunar Plane who are making their label debut. Hailing from Turkey, Emre & Mert Altinok aka Lunar Plane have been crafting their unique fusion of electronic styles since 2014. With a discography highlighted by releases on 2DIY4, Infine and Parquet Recordings they now make their much anticipated debut on Movement with a superb rendition of 'Trigonon'. The duos dynamic drive and metallic designs immediately illuminate your mind while a trail of eerie effects develops a mystical storyboard. Refinement is the key and Lunar Plane have it in spades, as ethereal synths and haunting effects steal the air on this unforgettable trip.
The lone interpretation of 'Devir' is provided by Danito and Athina who return to the label for their third appearance. The German duo made their first appearance on the Greek imprint in January of 2017 with a remix of 'Syracusse' by Mariano Mellino and John Cosani. The month of May saw them return for their first EP entitled 'Sargas' which enjoyed an extended stay in Beatport's Progressive House charts. It was a breakout year for Danito & Athina, as the duo racked up releases on Stil Vor Talent, Culprit and Crossfrontier Audio. Now getting 2018 off to a similarly sensational start the duo provide a stellar interpretation of 'Devir'. With a more progressive minded sensibility it complements the original nicely as a rolling groove anchors the piece while cosmic motifs adorn the framework. An expansive break advances the storyboard, creating further dramatic scope before a stripped back drop seals it's brilliance. A powerful remix from Danito and Athina which caps off another strong outing for Tash's Movement Recordings.