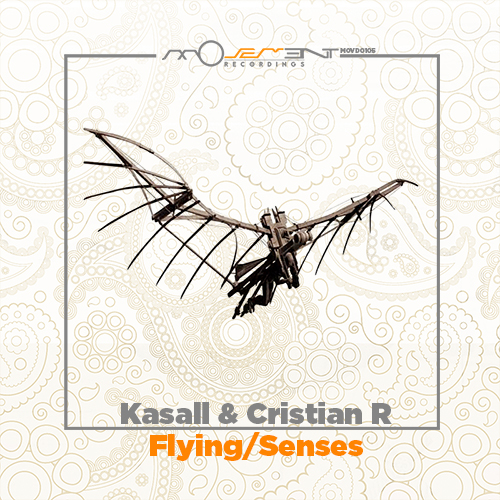 Artist(s): Kasall & Cristian R 
Track(s): Flying / Senses
Release Date: 25/05/2015 
Supported by: Hernan Cattaneo, Jerome Isma-Ae, Tim Penner, Marcelo Vasami, Dmitry Molosh, Loquai, Namatjira, Fernando Ferreyra, Blusoul, Subandrio, Mariano Favre & more .. !!
The 105th release on Tash's Movement Recordings welcomes Kasall & Cristian R to the label. The Argentinean duo have been one of the most hyped production teams of the year. Support from world class DJs Hernan Cattaneo and Nick Warren over the course of 2014 has led to 2015 releases on Sudbeat Music and Flow Records. Kasall and Cristian now make their Movement Recordings debut with 'Flying / Senses'.
Kasall and Cristian have showed remarkable range on their recent productions. While some approach the dreamier more atmospheric depths of progressive music others bring a more techno inspired sensibility. The lead track here 'Flying' is definitely the former and it goes down as one of Kasall and Cristian's most poignant creations to date. It's deep, fluid textures and wistful motifs transport you into dreamland almost instantly but there's a great story which develops over the tracks ten minute duration. From heartrending melancholia to strong rhythmic drive this is one production which stimulates both your feet and emotions. incredible work from Kasall and Cristian. Also included on the release is an Intro Mix which takes all those amazing melodic narratives and stretches them out over eight minutes of broken beats and swirling atmospheres. The perfect track to start your journey.
The companion piece 'Senses' finds Kasall and Cristian with a deeper and equally engaging creation. The Argentinean duo once again craft a production rich in rhythm and soul. It's warm, chugging groove and intricate percussive design sets a wonderful foundation for the dance floor. As the momentum builds, muted vocal stabs, hazy textures and developing atmospherics carry the track to the main break where the gaseous surroundings become more intoxicating. Processed chimes collect for a gorgeous lead theme which develops further into the third act and on to a blissful conclusion. Two outstanding productions from Kasall and Cristian who continue to impress with each outing. A top release from Movement Recordings once again. Don't miss it.