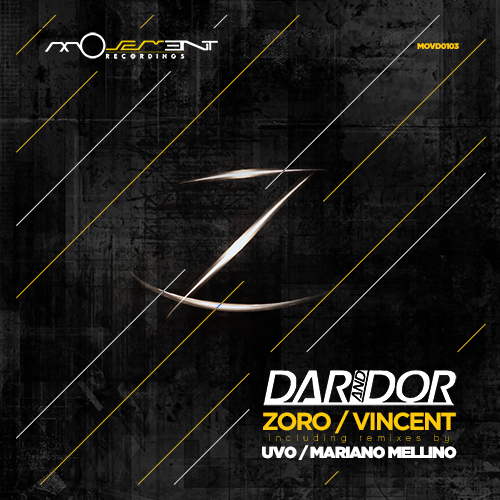 Artist(s): Dar & Dor
Track(s): Zorro / Vincent
Remixer(s): Uvo, Mariano Mellino
Release Date: 27/04/2015
The 103rd release on Movement Recordings welcomes Dar & Dar back to the label with a brand new double a-side release. Chico Shoshan & Liran Partush hail from Israel and together make up the DaR & DoR production duo. The pair made their Movement Recordings debut in May of last year with 'Voyage' and 'Around The World'. The release was well received and the electronic underground suddenly had two more incredible producers coming out of Israel. Chico and Liran definitely found a home on Movement as they went on to appear on the label two additional times. Now for their fourth appearance Dar & Dor present their two newest originals 'Zoro' and 'Vincent' alongside remixes from Mariano Mellino and Uvo.
Dar & Dor have been noted for their powerful and alluring themes; the lead track 'Zoro' has that and much more. Following an intro of tough beats, vibrant percussion and granular sweeps the subtle motifs begin to develop. A sequence of colourful tones first tantalizes the senses before a cluster of keys carries the track into the main break. The stripped down interlude offers a playful narrative which foreshadows a strong third act where the powerful groove and smooth hooks are sure to light up your dance floor.
The lone interpretation of 'Zoro' is provided by Mariano Mellino who is making his second appearance on Movement Recordings. The Argentinean producer made his debut on Movement with a contribution to the labels 'Technical Progress' Volume 4 compilation which was released in June of last year. Mariano has since delivered originals for some of the most cutting edge labels in the underground; most notably Asymmetric Recordings and Manual Music. Mariano's interpretation of 'Zoro' marks his first remix of 2015 and he's delivered something extra special once again. The Argentinean's techno inspired take proves to be a great complement to the original and a bevy of hypnotic motifs along the way make for an electrifying ride. The mesmerizing synths build endlessly over the first act before the layered kicks drop out momentarily to reveal a funky lead line. The second half shows once again why Mariano is a master at building subtle tension as bleepy electronics work in perfect union with the flickering lines for the ultimate conclusion.