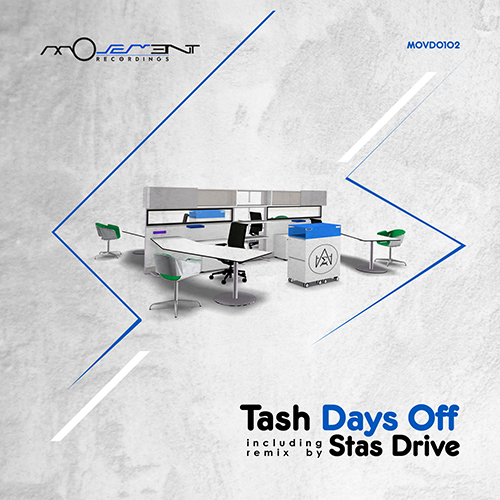 Artist(s): Tash
Track(s): Days Off
Remixer(s): Stas Drive, Yamil Colucci
Release Date: 13/04/2015
The 102nd release on Movement Recordings features the highly anticipated new single from Tash entitled 'Days Off'. The Greek producer and Movement Recordings label boss has been quite prolific over the last 9 months. It began with an appearance on the labels Technical Progress Volume 4 compilation in June of last year. What followed was a string of remixes for Big Al, Magnetic Brothers, Julian Dep and Marcelo Vasami; the latter of which was charted and played by Hernan Cattaneo. Tash's latest 'Days Off' looks to be his best yet and includes a massive remix from Stas Drive.
All Tash productions come with a certain dance floor flair and 'Days Off' is no different. It's funky foundation is incredibly groovy and the subtle motifs which surround it are quite charming. With the momentum building a sequence of processed pianos constructs an elusive theme which carries the track with ease to the main break. The tasteful interlude develops the emotion further with glistening keys and a warm chordal overlay working together in perfect harmonic bliss. It's a heartfelt moment which sets up a rousing finish that might just be the most poignant of Tash's career. Gorgeous stuff from the Movement boss.
The lone interpretation of 'Days Off' is provided by Stas Drive who is making his third appearance on Movement Recordings. The Ukrainian producer was much talked about towards the end of 2013 where he was widely regarded for his unique and club friendly grooves. Hernan Cattaneo, Nick Warren and Guy J became some of his biggest supporters as a result. 2014 saw Stas appear on Hope Recordings, microCastle and Sudbeat with a release on Lost & Found still building anticipation in the pipeline. He's had an impressive year thus far with his double a-side release on Keep Thinking and a remix of Sea's 'Young Lovers Searching Stars' being the highlights. For his 'Days Off' interpretation Stas Drive has stayed true to the main theme from the original all while adding his own otherworldly flair. An evolving series of electronics runs through the first act and into the main break. It's an engaging storyboard which has incredible grooves, distinctive textures and cross cultural motifs. A sprinkling of cosmic dust just adds to the elegance of the second and sets up a dreamy yet exhilarating conclusion. Excellent stuff from the always on form Stas Drive, and a top shelf release from Movement Recordings. Don't miss it!