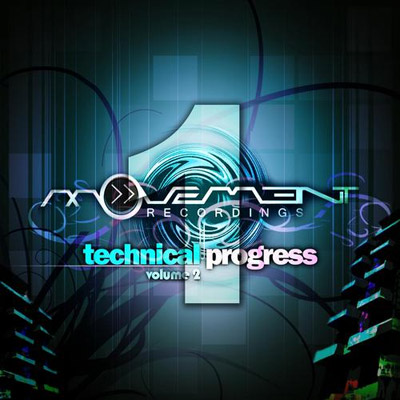 Artist(s): Various Artists (compiled by Tash)
Title: Technical Progress, volume 1 (Unmixed Compilation)
Release Date: 02/04/2012
The first instalment of Movement Recordings 'Technical Progress' saw its release in April 2010. A mere twenty months later the label has grown leaps and bounds and now sports an artist roster that includes industry heavyweights like Cid Inc., Dousk and Luis Junior. Movement however continues looking for the freshest up and coming talent on the scene today. 'Technical Progress' Vol 2 showcases that quite nicely along with a few industry veterans as well.

Russian duo Slang and Technodreamer kick the package off with a deep tech house gem in the form of 'Night Mist'. The softly textured pads and ultra smooth groove sets the stage for the bulk of the compilation perfectly. The sultry grooves and melancholic rainy day melodies of 'Night Call' by Greek producer Kostas Skretas comes next and transitions perfectly into the chunky dancefloor cut 'The Way Back' by Brazillian producer Darmony. Greek producer Alessandro Otiz makes his debut on Movement with 'Away From Past', an expansive progressive house cut with a wonderfully spacey lead synth. Veteran Turkish producer Ozgur Ozkan provides the dynamic, driving and dreamy piece 'No Rush In Kavala' which sets the stage perfectly for Greek producer Dio S and his morning beauty '6:15am'.
Luis Bondio has been one of 2010s brightest young stars, with releases on Stripped and Soulfire along with consistent support from Hernan Cattaneo and Nick Warren this young Argentinean producer has an extremely bright future ahead of him. His 'Beirut 1943' offering here is one of his most accomplished and mature works to date with its intricate percussive elements and a spacey melodic vibe that rises to a gorgeous angelic level. Fellow Argentinean producer Cesar Lombardi also makes his Movement Recordings debut here with his throbbing bassy cut 'Nook'. It's an outstanding track that serves the peak of the compilation well with its big atmospheric energy and bubbly dance floor presence. The collection closes with one of the label founders Stage Van H teaming up with Rogier for a peak time progressive house cut that's got main room anthem written all over it in 'Dreamscape'. Driving energy, emotional chord changes and gorgeous vocal elements. This one's huge!
Bring on Part 2!