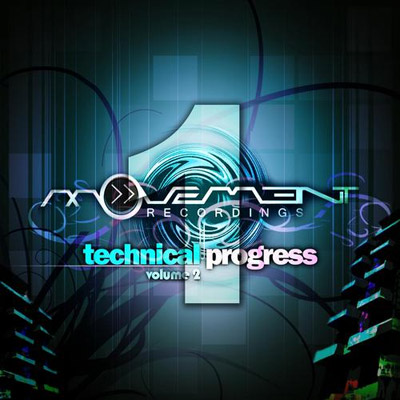 Artist(s): Various Artists (compiled by Tash)
Title: Technical Progress, volume 2 (Unmixed Compilation)
Release Date: 09/04/2012
Part 2 of Movement Recordings 'Technical Progress' Vol 2 begins with Mistique Music's Michael and Levan and Stiven Rivic making their debut on Movement with 'Violence'. A deeply hypnotic and spacey groove with gorgeous bass textures and sublime chord changes all which make it one of the trio's most mature works to date. Greek producer Stelios Koulinas aka Soil K also makes his debut on the label with an incredibly warm and subtlety smooth melodic techno piece entitled 'Blur Cyan View'. The third offering sees label boss Tash teaming up with Movement resident Toni Manga for the energetic techy romp entitled 'Hocus Pocus'. When Tash and Toni collaborate magic always seems to happen in the studio, the breakdown here is awe-inspiring, sequences of gorgeous glassy keys provide one of this year's coolest musical interludes before the main room groove comes back down for a rocking finish.
Aussie producer Chris Meehan who is famed for his productions on Kasey Taylor's Vapour Recordings also makes his Movement Recordings debut with his new original track 'Yeah Yeah Na'. It's one of Chris' most technically proficient and dancefloor smashing productions to date with its rolling groove and marvellous drum edits which give the composition that extra bit of dance floor pop. Up and coming Greek producer Kokkinos Giorgos aka Gio Red follows that with the pulsating and vocal hook heavy `White Rose and A Skull'. JoN ManimaL and MagroS aka Metronomes made a huge name for themselves over the course of 2011 with several quality productions on Deepsessions and here they continue that strong run with 'Naked', a deep, chugging progressive track with some top notch grainy effects and a mystical atmospheric vibe.
Sezer Uysal needs no introduction, equally adept at producing smooth deep grooves as he is big room progressive house the Turkish producer has appeared on Proton, Flow, Afterglow, AlterImage and Outside The Box to name just a few top imprints. On 'Little Indian Girl' Sezer has delivered a bubbly, energetic progressive houser with big, airy vocal pads and cascading lead melodies to die for. A monster track from Sezer.From there Movement continues to showcase some great Greek talent with Orelse's 'It's A Dream' featuring MR. This is certainly one of Orelse's most accomplished works to date with its big engulfing sound, widescreen drums and those heartfelt, angelic sounding vocals from MR. Part 2 of 'Technical Progress' closes this the OgiGee Cash and Dimiz's interpretation of Stage Van H and Rogier's 'Onshore' which is a distinct nod towards Chicane's timeless classic 'Offshore'. Simply a magical piece of music and a great way to close the compilation off.