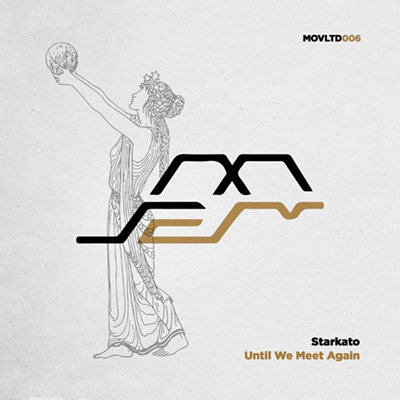 Artist: Starkato
Title: Until We Meet Again
Release Date: 30 July 2021
Supported by: Nick Warren, Eelke Kleijn, Nick Muir, Anthony Pappa, Max Graham, MATAN CASPI, Darin Epsilon, Alex Preda, Tash, Hicky & Kalo, Paul Anthonee, David Hohme, Beatamines, Amber Long, ZIGER, Kasey Taylor, Nicolas Rada, ao.
The latest release from Tash's Movement Ltd welcomes Starkato to the label for his debut EP. No stranger to the Movement family, the German artist has been a primary contributor to parent label Movement Recordings since making his debut in 2018. Starkato's fresh take on melodic house and techno has also found a home on Balkan Connection, Beatfreak Recordings, ICONYC and Sprout. Now following an appearance on Mango Alley's popular 'Augmented' series, Starkato makes his Movement Ltd. debut with a three-track showcase entitled 'Until We Meet Again'.
With a blend of contemporary and timeless elements it is 'Forward Unto Dawn' which gets the EP underway. Complementing its acidic groove are punchy beats, buzzing effects and icy atmospheres. Emerging acid lines further it's timeless appeal, while neatly manicured percussion pushes momentum across a concise four-minute narrative.
The second selection 'Slumber' follows and finds Starkato exploring dub techno sensibilities with an intoxicating late-night style. Tight and deliberate, it's compact kicks and minimalistic framework provides the backbone for dubbed out rhythms and hopeful pads to work their magic. Timeless in design and flawless in execution, it shows another side to Starkato's far reaching studio skills.
The release concludes with the transcendent sounds of the title selection 'Until We Meet Again'. Fuller and more robust than its predecessors, Starkato marries key changing grooves with nostalgic melodic concepts and siren-like motifs for an irresistible dance floor sensibility. A timely break continues to elevate mood, gently pulling the energy back for a wave of warm bass swells and flickering melodies as the beats drop for an epic finale. It rounds out an inspired Movement Ltd debut for Starkato, an artist who continues to push his creative boundaries as 2021 reaches its second half.