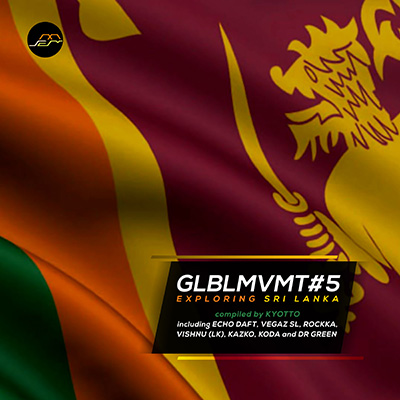 Artist: Various Artists
Title: GLBLMVMT5 - Exploring Sri Lanka (compiled by Kyotto)
Featured Artists: Kyotto, Echo Daft, Rockka, Vishnu (LK), KAZKO, KODA (LK), VegaZ SL, Dr Green
Release Date: 7 October 2022
Supported by: Black Coffee, Solomun, Armin van Buuren, John Digweed, Guy Gerber, Agoria, Joris Voorn, Paul Oakenfold, Paul Van Dyk, Pete Tong, BLOND:ISH, Anja Schneider, MATAN CASPI, Kamilo Sanclemente, Elif, ao.
The latest release on Tash's Movement Recordings finds the label showcasing the fifth installment of its 'GLBLMVMT' series. These region-specific compilations were first unveiled in 2018 with Federico Monachesi curating the progressive hotbed of Argentina. Moving forward, the label has unveiled a new edition each year, with Cyprus, India and France being the chosen destinations, expertly curated by Paul and Don, Aaryan and Wielki across the next three years. Now unveiling the fifth and much anticipated edition, Movement has called upon KYOTTO to curate the talent-rich region of Sri Lanka.
First emerging in 2017, Sri Lankan artist KYOTTO was quickly tipped as one of his country's most promising progressive house artists. Releases via Dopamine White, JEE Productions and Mango Alley have been recent discography highlights, while Hernan Cattaneo continues to be steadfast with support. Having made his Movement Recordings debut earlier this year with a massive remix of Hobin Rude's 'Umbra', the Colombo resident now returns to the label with the deep and heady sounds of 'Distored Symphony'. Selection two stays in Colombo and finds Echo Daft making his label debut with 'Echoes'. Dinusha Ranasinghe aka Echo Daft began to rise quickly in Sri Lanka's electronic culture following his initial releases in 2018. Progressive house tastemakers Hernen Cattaneo, Nick Warren, Guy Mantzur, Khen and more have been supporters of his melodic sound, while longstanding imprints such as aboriginal, Balkan Connection and Proton Music have been recent landing spots.
Continuing his trailblazing ways, Echo Daft now adds Movement Recordings to his resume with the melodious sounds of 'Echoes'. Next up and providing the collection's first collaboration are Rockka and Vishnu. Hailing from Nugegoda, Rockka aka Lakith Adikaram has been releasing his own unique style of progressive music for just over two years. Appearances on Droid9, One Of A Kind and Transensations sit as recent discography highlights, as he continues to refine his groovy melodic sound. Meanwhile, based in Colombo is Vishnu who has enjoyed similar success since his first release on Another Life Music in 2021. With a discography that draws on a variety of influences from deep house, organic house and techno, it is progressive house where Vishnu has ultimately found his home. Now following releases via Balkan Connection's BC2 and Soundteller Records, Vishnu pairs with fellow countryman Rockka for their Movement Recordings debut 'Outliers'.
The collection's half-way point finds KAZKO and KODA presenting the second and final collaboration on the release. Colombo based KAZKO is early in his journey into electronic music with his debut coming in 2020 via Benichyo Label. Although beginning as more of a tech house producer it was not long until KAZKO found his calling in progressive house with Bonzai Progressive, Droid9 and Future Avenue being recent landing spots for his melodic sound. Meanwhile, hailing from Kandy is Wasath Kodithuwakku aka KODA who began his journey into electronic music in 2019, after being inspired by fellow countrymen Dimuth K and KYOTTO. A short but well-kept discography displays standout offerings via BCSA, Droid9 and One Of A Kind as he now pairs with KAZKO for their Movement Recordings debut 'Bittersweet Memory'.
For selection five we head to the southwest coast of Sri Lanka in Galle where VegaZ SL resides. Having already made his mark on the global progressive house scene, VegaZ SL has secured exceptional releases with long-standing imprints such as Balkan Connection, Bonzai Progressive, Sound Avenue and Transensations Records. On the backing of support from trendsetters such as Armen Miran, Antrim and Nicolas Rada, VegaZ SL now continues his upwards trajectory with his much-anticipated Movement Recordings debut 'Helm's Deep'. For the final stop on this GLBLMVMT tour of Sri Lanka we land in the coastal town of Mirissa with Dr. Green. Daniel Claessen aka Dr. Green first came to our attention in 2021 with releases via Balkan Connection's BC2 division. Immediately recognized for his progressive sound, Dr Green has compiled an impressive resume in relatively short order. With BCSA, Electronic Tree and SLC-6 Music being recent hosts for Daniel's groovy sound, the Mirissa resident now debuts on Movement Recordings with the peak time vibes of 'Abaddon'. A fitting end to a rousing collection of music compiled by KYOTTO, one which proves once again what a mecca for progressive house Sri Lanka is quickly growing into.