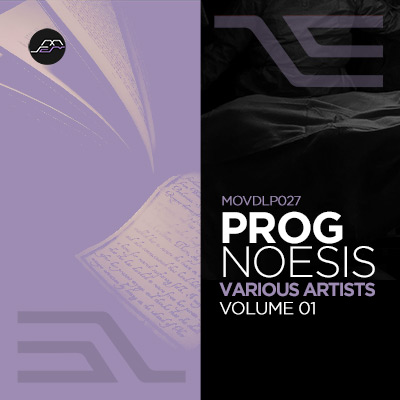 Artist: Various Artists 
Title: ProgNoesis vol. 1
Release Date: 21 December 2020
Supported by: Guy J, Eelke Kleijn, Dale Middleton, Amber Long, Kamilo Sanclemente, Clay van Dijk, DJ Ruby, Nicolas Rada, Emi Galvan, Lonya, Max Graham, Sezer Uysal, Jorgio Kioris, Antrim, Nick Varon, Wurtz, Ewan Rill, Mike Griego, ZIGER, Paul Anthonee, ao  
Tash's Movement Recordings caps off a successful year by unveiling the first installment of their 'ProgNoesis' series. As the label continues to focus on an amalgamation of progressive house and melodic techno, this new endeavour looks to unite a cross section of both new and established artists from these popular blueprints. Featured on the first edition (in order of appearance) are: Not Demure, Julian Nates, Agustin Pietrocola, Mooh, Fabri Lopez, Abaze and Minders, Ta'kaam and Xtabay.
Hailing from Argentina and getting the release underway is Not Demure with 'Bellabony'. The Mar del Plata resident makes his label debut following well received outings for Magician On Duty and LAIKA Sounds. Beginning with a warm, chunky groove and beefy percussion, the piece evolves with buzzing rhythms and haunting overlays flowing through the framework. Ghostly vocal wails bring ethereal moments across the first act, before an emotive break adds further intrigue to this groovy gem.
Next up is Julian Nates who makes his label debut following releases on Clubsonica Records, Dopamine White and onedotsixtwo. The Argentinean artist delivers a deep, percussive groover entitled 'Origami'. A well contoured low end brings a powerful flow to the piece, while murky motifs and ominous atmospheres add an air of mystery. Phasing tones bring a unique balance of tension and emotion across the final break, before a buzzing drop spearheads a driving finale.
Continuing in Argentina is it rising talent Agustin Pietrocola who makes his label debut following releases on Another Life Music, BCSA and Soundteller Records. Sleek and groovy, 'Dementor' flows smoothly with rhythmic pulses and astral arps dominating the first act. Sweeping effects transfer energy into the main break, where subtle modulation and a wave of drums unite for a classy crescendo and trippy final act.
The journey shifts gears with the driving, cross-cultural vibes of 'Connected' by Mooh who has recently showcased his music via Massive Harmony Records and Suprematic. Hailing from Egypt, the Cairo resident presents a mystical creation driven by rugged grooves, organic motifs and striking effects. Astral themes further saturate your senses leading into the main break, before eventually segueing into a cosmic conclusion.
Fabri Lopez continues the string of label debutants with the powerful 'Pilot'. With an impressive resume of releases on Balkan Connection, Clubsonica, Droid9 and Soundteller, the Argentinean artist maintains the dark ethos of the collection with a muscular groove and brooding rhythms. Not without emotive moments, the storyboard evolves with hopeful overlays and mysterious vocals during the break, as the beats drop for a mind bending finale.
With past releases on Diynamic and Elliptical Sun Melodies it's Abaze who provides the collection's sixth selection. The Chilean artist once again crafts something unique with the sleek, hypnotic sounds of 'Cyclon'. Smooth yet energetic, it's a rousing journey backed by tough beats, rolling rhythms and exotic drums. Hopeful atmospheres deliver peak emotions during the main break, as muted tones and tranquil arps get engulfed in a massive drum roll and dynamic drop.
The release concludes with Minders, Ta'kaam and Xtabay who wind the collection down with 'Hic Et Nunc'. Leaning towards the astral side of techno, the trio crafts a seven minute journey of deep emotions and redolent rhythms. With a compelling narrative and modern design it picks up momentum quickly, as trailing effects and compact arps fill in the framework. The main break only furthers it's poignant leanings, as glowing synth phrases steal the air, before a stripped back drop seals it's brilliance. It rounds out a superb inaugural edition of 'ProgNoesis' and also caps off another excellent year for Tash's Movement Recordings.