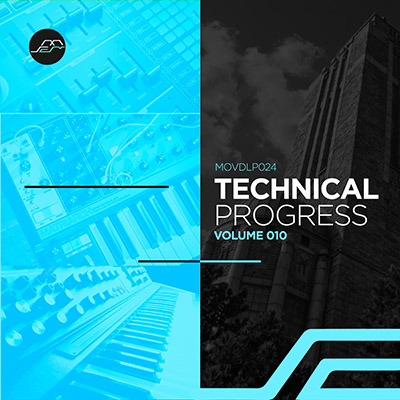 Artist: Various Artists
Title: Technical Progress
Release Date: 02 March 2020
Supported By: Matthias Schuel, Max Graham, Tash, Kamilo Sanclemente, Guy Mantzur, Nicholas Van, Marc DePulse, Eelke Kleijn, Kasper Koman, Jorgio Kioris, Real Gone Kid, ao
The latest release from Tash's Movement Recordings finds the label presenting the latest installment of it's 'Technical Progress' series. Conceptualized in 2010 these various artists showcases have grown into one of the underground's most critically acclaimed series, continually featuring some of electronic music's most highly touted artists alongside talented newcomers. Now embarking on their tenth edition, Movement invites Rodrigo Lapena, Gonzalo Sacc, Circle of Life, Wielki, Futur-E, Integral Bread, Ryan Dupree and Tal Fussman to contribute to this momentous installment.
The release begins with the pure, progressive sounds of 'The Artist' by Rodrigo Lapena & Gonzalo Sacc. Beginning with warm beats, rolling grooves and cross-cultural wails, the piece evolves into a spoken word narrative which highlights the main break. Mysterious yet emotive, it's sparks a smooth build and finale of vibrant chord stabs and spacey arps.
Next up label artist Circle of Life returns following his well received 'Black Light' EP from October of last year. With 'On the Edge' the Serbian artist crafts a smooth yet powerful slice of astral techno. Spacey synth clusters coupled with a tough and uniquely modern groove make this a sure-fire peak time bomb.
The dark, mysterious ethos continues with 'Illon De Plania' by Wielki. Having delivered his 'Excelsior' EP for the label in September of last year, the French artist returns with another dramatic creation. Tough and chugging, it's a groovy trip backed by punchy beats, lively rhythms and fragmented melodies, the latter of which descends over the framework, perfectly setting up a tense break, before a buzzing drop seals it's brilliance.
Energy and mood shift up a gear with Futur-E making his label debut with 'Acrobat'. Sitting in the creative space between progressive house and techno, the Greek artist crafts a buoyant, peak time creation. Rhythmic yet driving, it's rolling groove, percussive flurries and buzzing stabs make for an electric narrative. Not without emotive moments, warm swells highlight the finale, bringing a perfect balance of colour and tension.
Also making his label debut and providing the collection's fifth selection is Integral Bread. The Spanish artist and Univack label boss has been a fixture of the progressive house underground for 10 years while earning support from the genre's top tastemakers. Now following a well received remix of Kamilo Sanclemente, the Seville resident presents his latest original 'Ineffable'. Tough beats and esoteric effects immediately command your attention, while thick slabs of bass and timely stabs drive momentum forward. With a pensive narrative and modern design, it's arpeggiated fragments which fill in the framework, before a timely break perfectly sets up a hypnotic final act.
The release concludes with Ryan Dupree and Tal Fussman collaborating on 'Id'. Reflective yet groovy, it's an exhilarating piece with heavy hypnotic leanings and a spaced-out storyboard. Sitting at the heart of the journey is an emotive yet quirky break, one which not only sets up a clever finale but caps off the release on a creative note. Another superb edition of Technical Progress, one which showcases a unique blend of fresh and veteran talent that's not to be missed.