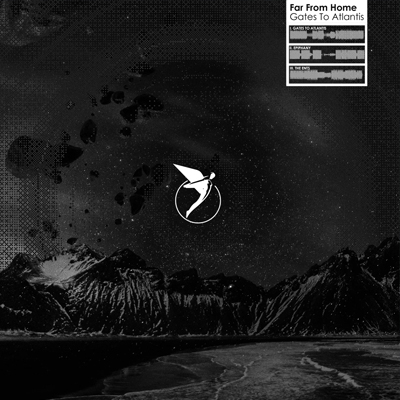 Artist: Far from home
Title: Gates to Atlantis
Release Date: 4 February 2022

Supported by Fideles, Kevin de Vries, BLANCAh, Øostil, HeÎk, The Element, Paul Thomas, Paul Anthonee, 19:26, Sean & Dee, Paul Angelo & Don Argento, Emiliano Demarco, Bruno Longhitano, Leghet, ao.
Presenting their first release of 2022, Astral Records welcomes Far From Home to the label for their debut EP. Based in Argentina and comprised of Lautaro Lopez Delgado and Lucas Amicone, Far From Home crafts mystical melodic techno which takes listeners on a journey. The duo's otherworldly sound found footing early, finding a home on Concept, Fengari, Omnia Rec and Venture Records. Most recently however, the duo contributed a track to the Be Free Recordings 'Be Free' collection, which showcased some of the underground's most promising melodic house and techno artists. Now, on the strength of that release, Far From Home continues to rise, making their much-anticipated Astral Records debut with 'Gates to Atlantis'.
Through distinctive design and spacey soundscapes Far From Home have carved out their own unique place in the underground. 'Gates to Atlantis' showcases this wonderfully with mysterious and deeply compelling architecture. Wispy sonics and haunting chord stabs converge around a smooth, meditative groove, while dull claps and tight arps push momentum into the break. Spanning over a minute in length, the centrepiece bridges the gap between tension and emotion, with rising tonal themes eventually culminating in a striking drop and hypnotic finale.

The second selection 'Epiphany' comes in equally mesmerizing and more robust with a cavernous groove and alien-like design immediately grabbing your attention. Solemn yet hopeful, its emotional range is vast, accentuated perfectly with devilish hooks and astral trails, before an arcane break resets the groove for a mystical final movement.

The third and final selection 'The Ents' comes with a deeper and more introspective approach. Warm beats and fuzzy lines set a character rich mood early, with arpeggiated fragments and percolating effects only adding to its esoteric charm. Concise and timely, the main break furthers the narrative, as symphonic synth flurries unite for a colourful crescendo and buzzing drop. It rounds out an excellent artist showcase from Far From Home, who make their Astral Records debut a most memorable one. Highly recommended.