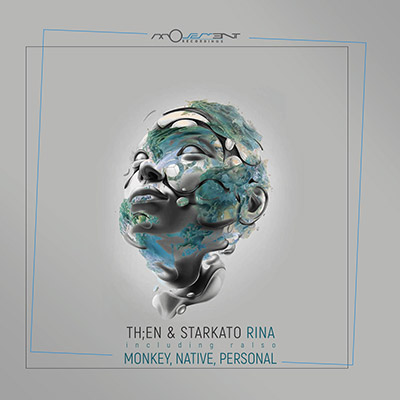 Artist: TH;EN & Starkato
Title: Rina EP (incl. Monkey, Native, Personal)
Release Date: 8 January 2018
Supported by: Kölsch, Paco Osuna, Joseph Capriati, Richie Hawtin, Joris Voorn, Eelke Kleijn, Nick Warren, Robert Babicz, KOLLEKTIV TURMSTRASSE, Jamie Stevens, Jonas Saalbach, Township Rebellion, ILona Maras, Betoko, Lonya, Lemon8, Balcazar & Sordo, Praveen Achary, Gai Barone, John 00 Fleming, Above & Beyond, Andy Moor, Graziano Raffa Dj, Nick Varon, Kohra, ao
The 156th on Tash's Movement Recordings welcomes TH;EN and Starkato to the label for their debut EP. The production trio are fresh off a release for D-Nox's Sprout imprint and have also appeared on Moonbootique and Studio3000 Records. Now kicking off 2018 in style, TH;EN and Starkato present their first EP for Movement Recordings entitled 'Rina'.
The release begins with its title and showcase piece 'Rina' which finds the trio crafting a tough, techno inspired groover. Punchy kicks, ominous bass stabs and driving percussion make for a dramatic first act. Metallic melodies, although indistinct, highlight the main break before a stripped back drop sets up an emotive finale. 'Native' meanwhile comes with a more progressive minded groove as galloping rhythms and fiery synths lead the charge. Tasteful modulation sparks tension during a short but timely break, resetting the groove for a powerful finale.
At the EP's halfway point comes 'Monkey' which shifts the narrative further into melodic territory. Smooth chord changes and staggered synths lead to a quirky and highly emotive break as the pixie-like lead steals your heart, foreshadowing a dreamy conclusion. The release concludes with the cool and catchy 'Personal'. A commanding dance floor presence is born out of rolling grooves, crisp percussion and vibrant electronics; perfectly setting up a heads down third act. A summation of the entire collection in a way and sign of great things to come for TH;EN and Starkato in 2018.