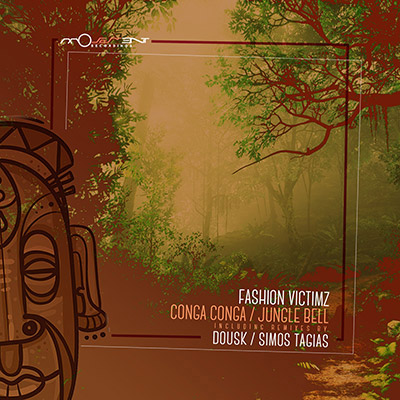 Artist: Fashion Victimz
Title: Conga Conga / Jungle Bells
Remixers: Dousk / Simos Tagias
Release Date: 4 December 2017
Supported by:  Damian Lazarus, KOLLEKTIV TURMSTRASSE, John Graham aka Quivver, Roy Rosenfeld, Jonas Saalbach, Cid Inc, BOg, ZIGER, MATAN CASPI, Interaxxis, Praveen Achary, Lonya, Roger Sanchez, Above & Beyond, Tim Penner, GMJ, David Granha, Sonic Union, Amine K, Marc Poppcke, Olderic, Paul Hazendonk, Mariano Mellino, Graziano Raffa, ao
The 155th release on Tash's Movement Recordings welcomes Fashion Victimz to the label for a brand new EP. Hailing from Israel, Mark Finkel and Viki Makrianis are well known DJs in Tel Aviv's burgeoning club scene. As a production duo they've racked up discography credits on esteemed labels such as Dear Deer and MNL. Now making their much anticipated debut on Movement Recordings the duo present their latest studio creations 'Conga Conga' and 'Jungle Bells' alongside remixes from Dousk and Simos Tagias.
The aptly coined 'Jungle Bells' leads the release off with a warm, tribal infused groove and a delicate bell motif. Fluid bass swells rise, pushing the momentum forward as a storyboard of cosmic instrumentation begins to take shape. Squirrelly and wholly satisfying it leads to a short but timely break before a powerful drop resets the groove for a musically inspired finale. The companion piece 'Conga Conga' follows suit nicely with a cross cultural narrative wrapped up in an airy atmospheric resonance. Distinctive vocal elements and elegant musicality lie at the core of the piece while clattering congas work their magic across the seven minute journey.
The lone interpretation of 'Jungle Bells' is provided by Movement Recordings artist Dousk. The Greek producer is fresh off his 'West of Dub' EP for the Greek imprint which was released amidst much praise one month ago. Always a creative remixer Dousk injects his own brand of cosmic funk into 'Jungle Bells'. Electric and edgy, it's a trip into mutoid tech-grooves, fuzzed out synths and hypnotic bells, highlighted by a two minute interlude to fully captivate your dance floor.
The release concludes with another member of the Movement Recordings family Simos Tagias providing the lone interpretation of 'Conga Conga'. The Greek artist recently remixed Movement label boss Tash for Soundteller Records and also owns releases on Sound Avenue and Sudbeat. Now closing the release out in style Simos takes 'Conga Conga' into dreamy progressive house territory with great results. The main elements translate nicely over a voluminous groove while a strong rhythmic core and cascading motifs drive the piece to a euphoric finale. A massive remix from Simos and one that sounds tailor made for the sets of Hernan Cattaneo and Nick Warren.
A stunning Movement Recordings debut for Fashion Victims who present their career best work looking ahead to a promising 2018.