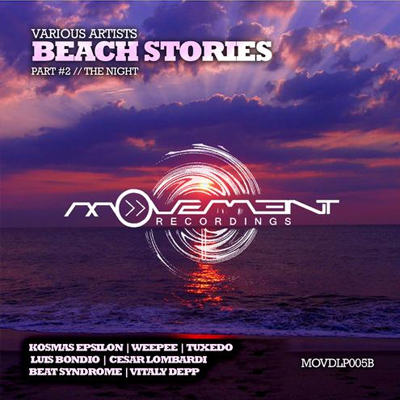 Artist(s): Various Artists (compiled by Tash)
Title: Beach Stories, // Part 2: The Night (Unmixed Compilation)
Release Date: 24/09/2012
Part 2 of Movement Recordings 'Beach Stories' sees the label focusing more on the 'Night' oriented club material. It's the perfect companion for 'The Day' collection and features exclusive tracks from: Kosmas Epsilon, Vitaly Depp, Luis Bondio, Tuxedo, Cesar Lombardi, Weepee, Kostas Skretas and Beat Syndrome.

One of the most storied Greek progressive house producers has undoubtedly been Kosmas Epsilon, from his early productions on Deep and Precinct to his recent productions on Movement and Particles the Kosmas sound has certainly evolved over the years but it's stood the test of time extremely well. Kosmas' 'Ethnovaganza' leads the compilation off and it represents the Greek producers fourth appearance on the label. ' Ethnovaganza' sees Kosmas at his genre defying best with a deep tech house style groove that's complemented with dark stabs, prominent bass tones, great shakers and most of all a killer back room type vibe. Vitaly Depp is next and after solid appearances on Mistique and Deep Blue Eyes the Russian producer makes his debut on Movement here. Vitaly's contribution to the compilation is entitled 'Silk' and it comes with a nice big room vibe that's got big beats, fresh electronics and ultra crisp processing that's all wrapped nicely in a blend of progressive and techno sensibilities. One of the hottest progressive house producers on the planet right now is Argentina's Luis Bondio. With almost every production earning live and radio support from Hernan Cattaneo and Nick Warren Luis is on a major roll and the sky appears o be the limit. Luis is making his 3rd appearance on Movement here with his newest studio production entitled 'Circulate' which comes with cool vocal samples, grainy textures, rolling beat patterns and most of all a great underground party vibe.
Next up is the man behind the Electronic Tree imprint, none other than Polish producer Tuxedo who is making his debut on Movement here with his track 'Lost Chances'. It's a fabulous production with sinister sounding bass tones, spacey effects, a rolling acidic bass line and a building melodic vibe that changes the entire mood of the record half way through. Sure fire goose bump material for your dance floor from Tuxedo. Another extremely hot Argentinean producer and some time studio partner of Luis Bondio is next. Cesar Lombardi's 'Everlasting' has already been played by Hernan Cattaneo on several occasions, most notably at Moonpark to an amazing dance floor reaction. 'Everlasting' is surely one of Cesar's best productions to date, it's driving psychedelic vibe is complemented with killer drums, a wicked stab and an ominous atmosphere that just builds and builds throughout the record. Up next is one of Lithuania's top progressive house producers Weepee who is returning to Movement for his 3rd overall appearance following his 'Overlay' single and a contribution to the labels Deep Dive compilation both coming in 2011. Here we see Weepee's melodic brilliance once again with his 'Something In Between Us' which is full of warm flowing grooves, emotional chord changes and a bang on the money contemporary club vibe.
Kostas Skretas returns to Movement for his second appearance following a great contribution on the labels Technical Progress Vol 2 compilation from April of 2012. His newest production for 'Beach Stories' is entitled 'Wish' and it sees Kostas delivering a cool tech house cut with wicked late night vibes, great hypnotic patterns and a drummy dance floor groove that should find its way into a broad range of DJ sets over the coming months. Closing the package out are the Canadian duo Beat Syndrome who scored a huge hit with their 'Fantasy' EP which was charted by Hernan Cattaneo and selected as one of Beatport's Must Hear tracks for the week of its release. Their offering here entitled ' Ebullience' puts a perfect cap on the compilation with its grinding tones, incandescent bells and emotional melodic lines that sound tailor made for Hernan Cattaneo.