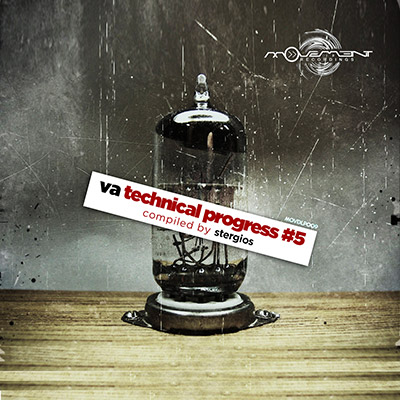 Artist(s): Various Artists (compiled by Stergios)
Title: Technical Progress, volume 5 (Unmixed Compilation)
Release Date: 23/02/2015
The first volume of the Movement Recordings Technical Progress sampler's was released in April of 2010. The exclusives compilation series quickly became a benchmark for fresh progressive music and on certain occasions provided an sneak peak at some future singles forthcoming on the Greek label. This week Movement Recordings has unleashed Volume 5 of the much loved series and they've called upon label artist Stergios to handle the A&R duties. The Greek producer has been an integral part of the Movement Recordings team since the inception of the label. It's a daunting task compiling a collection with such a great pedigree and Stergios has done a phenomenal job here.


The compilation gets underway with the deep and sultry grooves of 'Waves' by Michael A. The Belarus based producer has been one of the underground's most exciting talents and his dreamy, mid-tempo construction seems like the perfect way to get the collection started. It leads nicely into 'Down Town' by Hugo HP and Pablo Discobar. Hailing from Luxembourg this newly formed duo have just one previous project released . The funky deep house grooves of 'Down Town' is not only their finest work to date but it picks up nicely where 'Waves' left off . Look for a brand new single on Movement Recordings from this exciting duo soon which includes remixes from Tash and Samuel L. Sessions

Next are two of Mexico's most loved progressive house producers. Generally working as a duo Uvo and Hugo Ibarra deliver two solo productions here. The first 'Aerial' sees Uvo with a driving, trippy techno bomb while 'Sharp Stone' finds Hugo one of the deepest and most hypnotic works of his career. No installment of the Technical Progress series would be complete without a production from label boss Tash and here he continues a phenomenal streak with 'Peak Nic'. As one of Greece's most versatile producer's Tash is equally adept at crafted big peak time dance floor burners as he is a deep and sultry groover. 'Peak Nic' definitely falls into the latter category and is perhaps one of the collections most emotionally stimulating pieces. Dar & Dor are up next with 'Agapito' and it shows the Israel duo's haunting, richly textured sound at its absolute best. Led by a poignant sequence of keys and a dreamy back drop it's sure to set an amazing atmosphere for any room.

Much like compilation A&R Stergios, Stage Van H & Rogier have been two of Movements longest standing artists. Here they make their 19th and 10th appearances respectively with 'Spaceships'. Long noted for their warm engaging grooves, heartfelt melodic themes and mystical atmospheres Stage and Rogier have once again outdone themselves with 'Spaceships'. It's floaty textures and emotional chord changes lead perfectly into 'New Wave' by compilation A&R Stergios. The tracks warm, full grooves, playful bass tones and angelic soundscapes makes for an enchanting journey; one that's sure to raise a few goose bumps along the way. The compilation concludes with another one of the progressive scenes best talents in Dmitry Molosh. The Belarus based producer made waves in 2014 with a fusion of deep house grooves and progressive designs. His latest production 'The Shattered Hopes' puts an perfect cap on the compilation with its gargantuan grooves, mesmerizing synths and haunting atmospheres. An amazing collection from Movement Recordings and Stergios! Do not miss it!