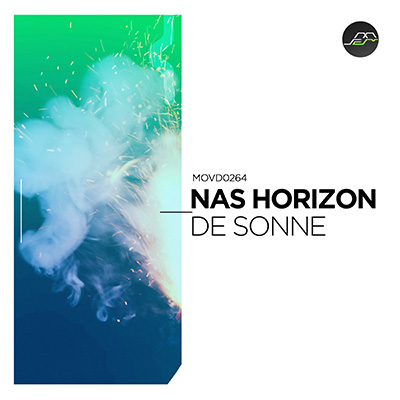 Artist: Nas Horizon
Title: De Sonne
Release Date: 26 May 2023
Supported by: Armin Van Buuren, Paul Van Dyk, Pete Tong, Above & Beyond, Markus Schulz, Paul Oakenfold, DJ T., Anja Schneider, Matan Caspi, Mila Journee, Der Effekt, Alan Cerra, ao.
Tash's Movement Recordings rounds out the month of May by welcoming Nas Horizon back to the label for a new EP. Based in Athens, the Greek artist has been a fixture of the progressive house underground for over a decade. Whether operating in solo capacity or with sometime studio partner George Harbas, Nas Horizon has taken his sound to longstanding imprints such as Mistique Music and Spring Tube. Also a regular contributor to Movement Recordings, Nas has appeared on the label four times since making his debut in 2009, most recently in April of this year via the popular 'Technical Progress' series. Now, as we approach the summer season, Nas makes a welcome return to the label with a new artist EP entitled 'De Sonne'.

Spread across four tracks it's the progressive techno sounds of the title selection which get the EP underway. Dark and mysterious from the outset, its punchy low end and rippling rhythms provide momentous drive, while astral stabs and devilish effects fill in the framework. Hopeful overlays bring an emotive vibe leading into the main break, melting down to a gorgeous melodic centerpiece, before a rush of drums and effects cues a thunderous drop. Meanwhile, 'Unreal' continues on a darker monochrome with tough beats anchoring a strong effects narrative and layers of metallic percussion. Glowing chord stabs and warm atmospheres emerge, perfectly setting the stage for a second act that is equal parts spiritual and emotional.

The third selection 'Power' surveys a similar design profile but with a further lean into atmospheric territory. Beginning with a stripped yet punchy groove, the piece evolves with emerging melodic hooks and detailed percussion carrying into the main break. Wispy effects and poignant fragments make for a heartfelt interlude which is sure to captivate a dancefloor, before smoothly segueing into an arp-driven finale. Rounding out the release is 'Communication' which carries a mystical peak time vibe through chugging grooves, soaring synths and an array of precise effects which allow for a great sense of depth and space. The main break serves to further the melodic leads, as they rise alongside a healthy dose of cinematic ambience onwards to a thrilling finale.