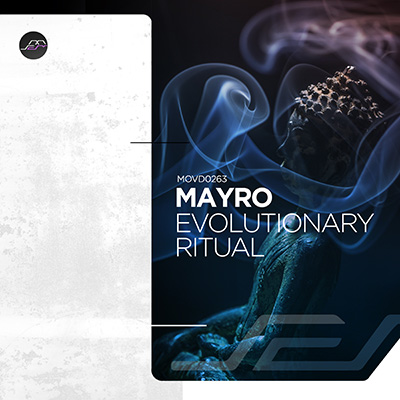 Artist: Mayro
Title: Evolutionary Ritual
Release Date: 12 May 2023
Supported by: Black Coffee, Solomun, Armin van Buuren, Âme, John Digweed, Pete Tong, Guy Gerber, Agoria, Mind Against, Paul Oakenfold, Anja Schneider, Above & Beyond, John 00 Fleming, ao.
Winding down a strong spring season, Tash's Movement Recordings welcomes Mayro back to the label for a new EP. Based in Argentina, Pablo Maneiro aka Mayro has been producing a blend of progressive house, deep and melodic house for the better part of a decade. World class DJs Cid Inc, Eelke Kleijn, Miss Monique and Nick Warren have all taken a liking to his sound, which has found a home on Mango Alley, Siona Records, WARPP and his own Traful imprint. Having made his Movement Recordings debut in 2021 with a contribution to the label's popular 'Technical Progress' series, Mayro now returns for his first EP project entitled 'Evolutionary Ritual'.

Mayro continues to find a nice balance between progressive and melodic house with the squelchy designs and powerful drive of 'Evolutionary Ritual'. Aimed squarely at a peak-hour dance floor, the piece moves through a wave of crunchy rhythms, retro effects and flashing percussion. A hopeful shade is revealed across the main break, as thoughtful overlays and wavy arps create an emotional calm, perfectly setting up a stirring build and electric finale.

Rounding out the release is 'Kind of Music' which follows a similar sonic ethos. The Argentinean artist lets an array of stunning effects descend over tough beats and smooth hypno-rhythms. Glassy arps and fragmented vocals percolate across the first movement, bringing with them otherworldly vibes, before a break of soulful phrasing and tranquil tones provide a bridge into a groovy conclusion.