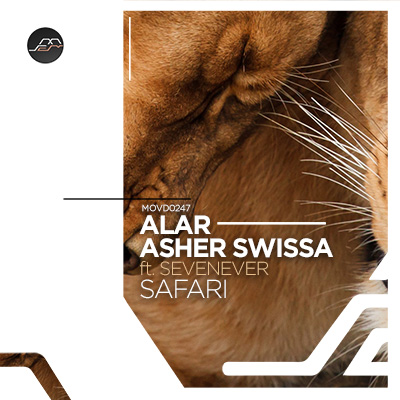 Artist: Alar, Asher Swissa, SevenEver
Title: Safari / Munda
Release Date: 14 July 2022
Supported by: Solomun, Maceo Plex, Ame, Armin Van Buuren, Joris Voorn, Lane 8, Above & Beyond, Anja Schneider, Paul Oakenfold, Paul Van Dyk, Ferry Corsten, John 00 Fleming, Markus Schulz, Matan Caspi, ao.
The latest release from Tash's Movement Recordings welcomes Alar and Asher Swissa to the label for their debut EP. Based in Bali, Alexander Alar aka Alar has been a fixture of the electronic music underground for over a decade. Initially operating under his full name, Alexander coined the Alar moniker in 2019 to focus on a deeper, more progressive sound. Success came quickly thereafter, as Alexander landed projects via Get Physical, Heinz Music, Siona Records and Zerothree. Meanwhile, Asher Swissa who is better known as psy-trance star Skazi, has enjoyed a quick rise with his new moniker since unveiling it in 2021. Miss Monique's Siona Records has also served as a landing spot for the Tel Aviv resident, along with IbogaTech, Outta Limits and Space Motion Records. Now joining forces for the first time, Alar and Asher combine their creative powers on their Movement Recordings debut 'Safari'.
Title selection 'Safari' finds Alar and Asher taking straight aim at a peak time dance floor. Robust beats, muscular grooves and layers of finely tuned percussion set the course for aural enlightenment. Building momentum across the first act, it's a wavy, hook heavy arp which emerges, taking tension to a feverous pitch, flowing through wavy contours as timey drum flurries transfer energy into the main break. Cavernous in design and dramatic in execution, the centerpiece is striking as pyrotechnic synths and cross-cultural samples steal the air onwards to a thunderous finale.
The companion piece 'Munda' finds Alar calling upon the vocal talents of SevenEver. The duo deliver an ideal complement to its predecessor with wobbly, machine-gun style grooves and buzzing electronics providing the perfect backdrop for chanting, prayer-like vocals to work their magic. Prophetic yet emotive, the main break furthers the vocal narrative, before eventually getting washed away in favour of ceremonial drums and a wave of razor-sharp effects, ultimately setting in motion a thrilling final movement. It puts a resounding stamp on a huge collaborative project from Alar and Asher Swissa, who make their Movement Recordings debut a most memorable one.