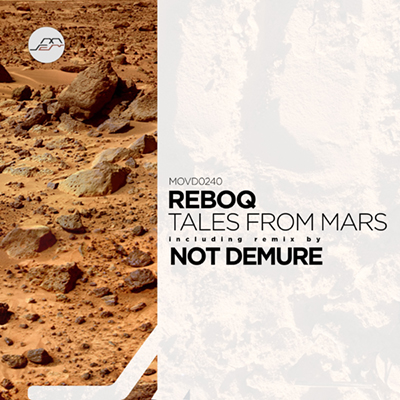 Artist: Reboq
Title: Tales from Mars
Remixer: Not Demure
Release Date: 25 March 2022
Supported by: Above & Beyond, Adriatique, Agoria, Âme, Anja Schneider, Armin van Buuren, Don Diablo, EarthLife, Elif, Ferry Corsten, John Digweed, Lonya, Mariano Mellino, MATAN CASPI, Mind Against, Nick Warren, Paul Oakenfold, Pete Tong, Solomun, Steve Lawler, ao
Tash's Movement Recordings rounds out the month of March by welcoming Reboq to the label for his debut EP. Based in the north east of Italy, Enrico Trevis aka Reboq has been involved in house and techno for over a decade. 2009 marked his production debut where he operated under a variety of monikers, earning support from world class DJs such as Roger Sanchez, until 2019 saw the birth of Reboq. With a focus on melodic house and techno, Enrico has compiled an impressive catalog under the Reboq guise, landing releases via ICONYC, Polyptych and Steyoyoke. Now adding Movement Recordings to his resume, Reboq debuts on the label with 'Tales From Mars', alongside a remix from Not Demure.
Destined to be a highlight in Reboq's discography, it is the electric stylings of the title selection which get the release underway. Rhythmically charged from the outset, its pulsating cadence, striking sweeps and devilish effects set the piece on a course for aural enlightenment. Placid pads and waves of percussion rise as the first act evolves, carrying momentum and mood into the main break. Astral arps rise across the centrepiece, eventually melting down to a flurry of drums for a tasteful crescendo and symphonic finale.
Returning to the label and providing the lone interpretation of 'Tales From Mars' is Not Demure. Born in Argentina and now based in Spain, Not Demure first emerged in 2017 with releases courtesy of Hitclub and TOTUM Music. Gaining momentum and fans quickly, the Mar del Plata native went on to showcase his music via LAIKA Sounds, Magician On Duty and Univack. Not Demure's Movement Recordings debut came in 2020 with a contribution to the label's 'ProgNoesis' Vol. 1 collection, a release which eventually led to EP's for both Movement Recordings and Movement Limited. Now returning for his first remix, the Balearic Islands resident dials in a powerful remix of 'Tales From Mars'. Adding more of a progressive state of mind, Not Demure carves out a dynamic groove adorned with firing percussive, striking chord stabs and fresh rhythmic themes. Hypnotic arps emerge as the first movement takes shape, adding a meditative quality to its dance floor inspired framework. Coming to full fruition during the main break, a gentle sonic sizzle brings moments of calm, before symphonic synths triumphantly rise towards an exhilarating final act.
Adding further depth to the release are two more originals 'Curiosity' and 'Skyfall'. The former finds Reboq flexing the more musical side of his repertoire with trance-inducing melodies and smooth yet powerful grooves. Its deeper design delights, eventually giving way to a break that is equal parts emotive and tense, building with a veteran's savvy towards a full-on drop and euphoric finale. Meanwhile, 'Skyfall' follows suit with a deeper, cosmic quality that is sure to leave long-lasting dance-floor memories. Glassy arps and elastic-like lines marry perfectly as ghostly pads and nostalgic chord changes continue to add depth and space. Complete with reflective qualities, the centrepiece sits as the most emotive moment on the release, effortlessly transferring its heartfelt vibe to the dance floor and rounding the EP out on a strong note. An immaculate sounding release from Reboq, who makes his Movement Recordings debut in fine style here.