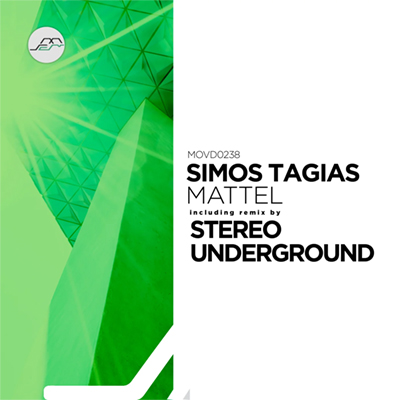 Artist: Simos Tagias
Title: Mattel
Remixer: Stereo Underground
Release Date: 25 February 2022
Supported by: Above & Beyond, Adriatique, Agoria, Âme, Anthony Pappa, Armen Miran, Armin van Buuren, Be Svendsen, BEHROUZ, John Digweed, Khen, Markus Schulz, MATAN CASPI, Mind Against, Nick Warren, Paul Oakenfold, Paul Van Dyk, Pete Tong, Solomun, ao
The latest offering from Tash's Movement Recordings finds label stalwart Simos Tagias returning for a new EP. Since first emerging nearly a decade ago, the Greek artist has continued to earn the praise of progressive music tastemakers Cid Inc, Guy J, Hernan Cattaneo and Nick Warren. Revered imprints such as Higher States, Juicebox Music, Mango Alley, meanwhile, Proton Music, Replug and Sudbeat have all served as recent landing spots for his groovy melodic sound. Now, on the strength of 2020's 'Molecular', Simos makes a welcome return to Movement Recordings with 'Mattel' alongside a remix from Stereo Underground.
Beginning with the pulsating grooves of 'Mattel', Simos marries fluid rhythms with radiant atmospheres and sweeping effects. Evolving percussive arrangements add nicely to its mediative pulse, before shifting energy into a mystical break. Understated in nature, the centrepiece delights with shimmering arrays and gentle percussive splashes, perfectly complementing emerging arps and emotive melodies, as the groove drops for a charged finale. The companion piece 'Paloma' proves to be a perfect complement with its deeper design and emotive sensibility. Bulbous bass tones flow through nostalgic key changes, perfectly playing off a maze of driving percussion and bubbly chord stabs. Refined and understated, the main break continues to elevate mood through a haze of colourful harmonics, eventually melting down to a flurry of drums for an atmospheric finale.
The release concludes with Stereo Underground making his label debut and providing the lone interpretation of 'Mattel'. Famed for releases on Balance Music, Einmusika, Lost and Found, Sudbeat and UV, the Israeli artist sits firmly in progressive music's elite class of producers. As a favourite of the genre's premiere tastemakers, the Tel Aviv resident has a long list of supporters, including Hernan Cattaneo, Nick Warren, Guy J and John OO Fleming. Also, an accomplished DJ, the BPM Collage founder has shared the stage with Danny Howells, John Digweed, Lee Burridge and more. Now embarking on his first remix project of 2022, Stereo Underground adds Movement Recordings to his resume with a gorgeous rendition of 'Mattel'. Clocking in at three minutes, an intro of wispy textures, pixie-like melodies and flickering percussive arrangements set the course for broken beats and a warm underbelly of voluptuous bass. Tasteful and euphoric in equal measure, its hopeful leanings are furthered through a timely break with buoyant beats charging forward towards a lively crescendo and goosebump worthy finale. It rounds out a welcome return to Movement Recordings for Simos Tagias, an artist who furthers his place amongst the world's finest progressive house producers with 'Mattel'.