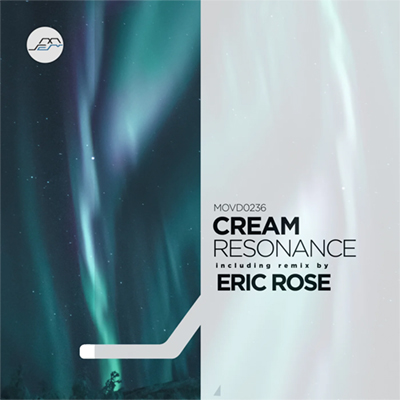 Artist: Cream (PL)
Title: Resonance
Remixer: Eric Rose
Release Date: 28 January 2022
Supported by: Above & Beyond, Adriatique, Agoria, Anja Schneider, Armen Miran, Armin van Buuren, Be Svendsen, BEHROUZ, Cedric Gervais, Damian Lazarus, Dixon, Don Diablo, Dubfire, Eelke Kleijn, M.A.N.D.Y, Maceo Plex, Markus Schulz, Paul Oakenfold, Shai T, Solarstone., Solomun, ao
Continuing a strong start to the year, Tash's Movement Recordings welcomes Cream to the label for his debut EP. Whether operating solo or as part of the famed Cream and Deep Fog duo, Polish artist Cream has firmly etched his place in the history of progressive music. With a discography that dates back almost a decade, the Jarosław resident has showcased his music via 3rd Avenue, Beatfreak Limited, Deepwibe Underground, Ein and Proton Music, while earning continued support from genre tastemaker Hernan Cattaneo. Now, as 2022 begins to take shape, Cream adds Movement Recordings to his resume with 'Resonance' alongside a remix from Eric Rose.
The release begins with 'Resonance' which finds Cream drawing on the melodic sensibilities of his repertoire. It's warm groove commands a big presence from the outset, adorned with fiery percussion and rhythmic pulses to drive momentum forward. Cosmic effects steal the air, building anticipation as a melodic lead begins to surface, bringing emotional depth to the journey before initiating a heartfelt break. Cascading melodies and hopeful atmospherics marry beautifully across the expansive interlude, building emotion with each successive pass, before eventually giving way to a thumping drop and key changing finale.
The second selection 'Sinoma' continues the progressive tone set by its predecessor with a sleek, mid-set style vibe. Mysterious and mystical from the outset, a hip swinging groove sits at the foundation, as filtered effects and meditative loops converge across the first act. The narrative shifts into darker territory as the main break commences, with crunchy rhythms playing off swirling atmospherics, before smoothly shifting energy into a hypnotic conclusion.
The third and final original 'Vertigo' follows a similar sonic ethos but resonates on a deeper, more emotive level. Remarkably powerful, its fluid groove commands attention, moving through rolling contours and rhythmic pulses, while striking stabs and arpeggiated fragments add further bounce to the framework. Sweeping effects initiate the main break, eventually melting down to a reservoir of buzzing effects and shape shifting electronics, tactfully building tension and setting the stage for a free-flowing finale.
The release concludes with Eric Rose making his label debut and providing the lone interpretation of 'Resonance'. Based in the Ukraine, Eric Rose first emerged in 2015 with a trio of releases via Pleasure Records, before going on to land projects with Dear Deer and Timeless Moment, where his melodic house and techno sound flourished. Now famed for his recent offerings via ATLANT, Eklektisch and Heinz Music, the Kyiv resident artist brings his talents to Movement with a stellar rendition of 'Resonance'. Remarkably fluid and hugely energetic, it's a mix that stays true to the themes from the original, while adding a distinct astral quality. Wavy arps and offset chord stabs come in waves across the first act, building momentum with each successive pass as the main break approaches. Dramatic and emotive in equal measure, the centrepiece drifts from elastic-like lines and warm bass swells into a striking build and devilish crescendo, as the beats drop for an exhilarating final movement. A huge interpretation from Eric, which rounds out an excellent Movement Recordings debut for both himself and Cream.