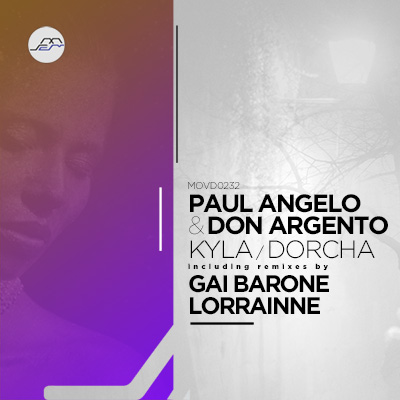 Artist: Paul Angelo & Don Argento
Title: Kyla EP
Remixers: LORRAINNE, Gai Barone
Release Date: 12 November 2021
Supported by: Above & Beyond, Adriatique, Agoria, Âme, Anja Schneider, Anthony Pappa, Armen Miran, Armin van Buuren, Be Svendsen, BEHROUZ, Damian Lazarus, Dixon, Dubfire, Henry Saiz, John 00 Fleming, John Digweed, Joris Voorn, Maceo Plex, Markus Schulz, Pete Tong, Sasha Carassi, Solomun, ao
Continuing a strong fall season, Tash's Movement Recordings welcomes Paul Angelo & Don Argento back to the label for a new EP. Hailing from Cyprus, the much-loved duo have been regular contributors to Movement Recordings, having appeared on the label eight times since making their debut in 2017. Often walking the line between melodic house and techno and progressive house, Paul and Don have become fixtures in Beatport's sales charts over the last calendar year, with a string of impressive outings via Clubsonica Records, Timeless Moment and UV. Now following an excellent remix of Tash and Starkato (also coming courtesy of Movement), Paul and Don return to their comfortable home of Movement Recordings with 'Kyla / Dorcha', alongside remixes from Gai Barone and LORRAINNE.
Beginning with 'Kyla' Paul and Don explore the astral sound for which they've become so loved. Energetic and rhythmic in all the right ways, fiery percussion and spaced-out tones descend over the rippling foundation, as rolling arps and vibrant effects converge for cosmic moments. Gradually opening up across the first act, it's a series of esoteric chord changes which initiate the main break. Expanding further across the one-minute centrepiece, modulation peaks against a backdrop of sweeping noise, eventually giving way to the thunderous groove for a spirited finale. The companion piece 'Dorcha' follows suit with another unique amalgamation of progressive house and techno. Backed by a buoyant and well contoured groove, it's bounce and drive quickly become infectious. Billowing stabs and trailing effects offset each other nicely, as romping rhythms build momentum across the first act. Arpeggiated hooks strike at opportune moments, adding rhythmic depth as layers of sonic artefacts saturate your senses during a dramatic break and thrilling final movement.
Making her label debut and providing the lone interpretation of 'Kyla' is LORRAINNE. Splitting time between London and Madrid, the Spanish artist first emerged just over a year ago with a string of well received releases via ONISM. 2021 has only furthered LORRAINNE's rise, with projects for Krafted Underground and Flemcy Music landing with maximum impact. Now embarking on the most anticipated remix of her young career, LORRAINNE debuts on Movement Recordings with a stellar take on 'Kyla'. Fluid and groovy in equal measure, it's a mix that carries the sensibility of the original, while adding a spacier vibe through unique sonic artefacts and otherworldly effects. Building beautifully into an early break, nostalgic chord changes add an emotive flair, while the lead theme continues to carry tension towards a classy crescendo and heartfelt finale.
The release concludes with Gai Barone making his label debut and providing the lone interpretation of 'Dorcha'. The Italian producer has had a remarkable thirteen-year career. Regarded by fans and contemporaries as a master melodic craftsman, Gai continues to deliver some of the most emotive music that the electronic underground has to offer. Afterglow, Beatfreak and Timeless Moment have served as landing spots for Gai's transcendent sound, while a recent partnership with British producer Luke Brancaccio has yielded chart topping releases via Lost and Found and Selador. Now adding Movement Recordings to his resume, Gai debuts on the Greek imprint with a powerful retention of 'Dorcha'. Opting for a distinctly
modern approach, the Italian artist reshapes the track into a colourful collage of emotive audio. A bulbous rhythmic core coupled with timely percussive flurries and captivating effects set the stage for a series of dynamic transitions and unpredictable shifts. Otherworldly in feel, it transfers energy into a centrepiece of tripped out designs and wonky modulation, before a third act of surreal cosmic concepts seal its brilliance. A stunning rendition from the much-loved Italian artist, rounding out another must have offering from Tash's Movement Recordings.