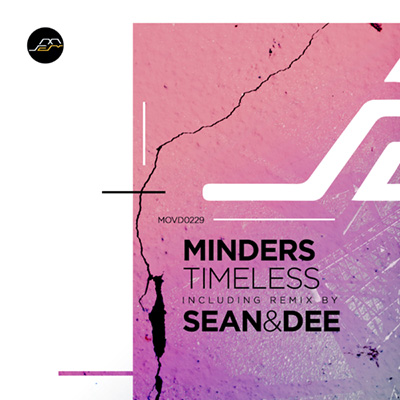 Artist: Minders
Title: Timeless
Remixer: Sean & Dee
Release Date: 1 October 2021
Supported by: Above & Beyond, Adriatique, Agoria, Ame, Armen Miran, Armin Van Buuren, Arude, Audio Jack, Behrouz, Blond:Ish, Damian Lazarus, Danny Tenaglia, Dixon, Don Diablo, Dubfire, Elif, Graziano Raffa, Hraach, John 00 Fleming, Joris Voorn, Kollektiv Turmstrasse, M.A.N.D.Y., Maceo Plex, Markus Schulz, Paul Anthonee, Paul Oakenfold, Paul Thomas, Pete Tong, Red Axes, Sasha Carassi, Solomun, ao
Tash's Movement Recordings opens the month of October by welcoming Minders back to the label for their debut EP. Hailing from Mexico, the Minders production team is made up of Santiago Luna and Carlos Luna. This brother duo first appeared in 2017 with a release via Reload Records, before going on to record projects for ARKHAMRA, deep dip and Revolt Records. December of 2020 marked Minders Movement Recordings debut with a contribution to the label's popular Prognoesis' collection. Continuing to build a bond with the label, the Mexican duo now makes a much-anticipated return to Movement with 'Timeless', alongside a remix from Sean & Dee.
Following on from Hic Et Nunc' which highlighted the Prognoesis' collection, Minders continues to amaze with the lead selection Timeless'. Following a tense DJ friendly intro, the duo unleashes muscular beats, pulsating rhythms and astral sonics across a devilish first act. Dark and emotive heading into the main break, it's a series of astral clusters which advances the narrative, before the cavernous centrepiece shifts scope further into goosebump territory. Cinematic and poignant in equal measure, the interlude delights with its interplanetary build, eventually giving way to the thunderous groove for an epic finale.
The lone interpretation of Timeless' is provided by label artists Sean & Dee who return for their fourth appearance. The Italian duo have impressed since forming their partnership in 2017. Key releases on Beatfreak Recordings, FSOE, ICONYC and UV have established them as one of progressive music's most talented duos. 2019 marked Sean and Dee's Movement Recordings debut with a remix of Like the Sun' by Trapped in Time and V-Cious. Finding a comfortable home on the Greek imprint, the Italian duo went on to record an EP and a second remix across 2020. Now returning for a third remix, the Italian duo provide a peak time rendition of Timeless'. Electrically charged with perfectly manicured beats and machine gun rhythms, its cosmic appeal beams brightly from the outset. Combining dynamic stabs with crisp percussion and striking design makes for a sleek yet poignant first act. Playful arps and timely modulation heighten the senses during a well-crafted break, bringing an emotive slant and eventually paving the way for a stripped back drop and stirring final movement.
Rounding out the release are Utopia' and Open Your Mind' which finds Minders delivering two more peak time bangers. The former delights with its crunchy design, undulating groove and clever cosmic storyboarding. Sitting as an ideal complement to its predecessor, playful chord stabs, emotive arps and a forest of detailed percussion precedes a dramatic break, where ghostly vocal choirs take centerstage as a rush of beats ushers in a sizzling finale. Meanwhile, Open Your Mind' finds Minders collaborating with fellow countryman AO for a heads down journey to cap off the release. The trio marry growling stabs with fiery percussion and buoyant grooves for an energetic romp of intergalactic proportions. A spoken word vocal narrative highlights the main break, bringing reflection and hope against a backdrop of poignant pads, eventually getting washed away in a trail of punishing beats. It rounds out an excellent artist showcase from Minders who return to Movement Recordings in a big way. Highly recommended.