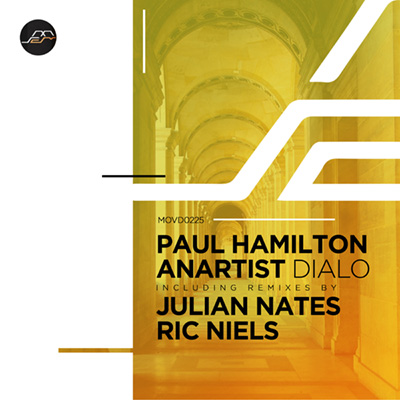 Artist: Paul Hamilton, Anartist
Title: Dialo
Remixer: Julian Nates, Ric Niels
Release Date: 23 July 2021
Supported by: John Digweed, Damian Lazarus, Solomun, Dubfire, Dixon, Agoria, Joris Voorn, MAETRIK, Mind Against, Adriatique, DJ T., M.A.N.D.Y., KOLLEKTIV TURMSTRASSE, Pete Tong, Danny Tenaglia DJ, Paul Oakenfold, Above & Beyond, Markus Schulz, Audiojack, &ME, Red Axes, Armen Miran, Lonya, Navar, ao. 
The latest release from Tash's Movement Recordings welcomes Paul Hamilton and Anartist to the label for their debut EP. The former, born in Malta and now based in Dubai, is one of the underground's most highly regarded progressive house artists. Paul has found a home on Armada, Balkan Connection, Droid9, Freegrant Music and Perspectives Digital, while his equally impressive DJ skills have seen him perform at Ministry Of Sound (Dubai) and Godskitchen (Dubai). Similarly, Polish born, Israel based producer and DJ Anartist has been a fixture of Tel Aviv's nightlife for over a decade, delighting crowds with his fresh blend of progressive house and melodic house and techno. Also an accomplished producer, Anartist has showcased his music via Beatfreak Limited, Heinz Music and Perspectives Digital. Now coming together for their debut collaborations, Paul and Anartist land on Movement Recordings with Dialo', alongside remixes from Julian Nates and Ric Niels.
The release begins with the peak time vibes of the title selection. Smooth and driving throughout, it carries a sleek yet powerful quality from the outset. Gaining momentum across the first act, the piece moves through layers of detailed percussion, alien-like effects and tantalizing arps, as placid pads push energy into the main break. The emotional narrative expands across the centrepiece with emerging melodies playing off frantic arps, before a tasteful crescendo sets the course for an exhilarating finale. The companion piece Lights' follows a similar sonic ethos and resonates on an equally impressive level. Remarkably powerful, it's muscular groove commands attention, moving through rolling contours and rhythmic pulses, while buoyant arps add further bounce to the framework. Sweeping effects initiate the main break, eventually melting down to a reservoir of buzzing swells and shape shifting electronics, perfectly elevating mood and setting the stage for a dynamic final act.
Returning to the label and providing the first interpretation of Dialo' is Ric Niels. Having first appeared on the Greek imprint earlier this year with a contribution to the label's Technical Progress, Vol. 11 collection, the Argentinean artist then returned in April for his first and well received artist EP Mermaid'. Now returning for his first remix for the label, Ric turns in a powerful rendition of Dialo'. Remarkably fluid and hugely energetic, it's a mix that stays true to the themes from the original, while adding a unique astral quality. Melodic fragments and icy overlays come in waves across the first act, adding a smooth ethereal quality which carries into the main break. Hugely emotive, the centrepiece trails off into a bed of crunchy arps and poignant chord changes, elevating mood as a tasteful build cues an exhilarating final movement.
Providing the second and final interpretation of Dialo' is Julian Nates who returns to the label for his second appearance. As one of Argentina's most promising talents, the Cordoba resident lays claim to releases on Nick Warren's The Soundgarden, Antrim's Or Two Strangers and Soundteller Records, while also earning the praise from progressive music tastemakers Hernan Cattaneo, Nick Warren and Guy J. Having made his Movement Recordings debut in December of last year with a contribution to the label's Prognoesis' Vol. 01. Julian now returns to the label with a stellar take on Dialo'. A touch deeper than the original, its groovy framework is offset with flickering arps and sweeping effects. Rising atmospheres and rolling rhythms keep the mood squarely on the dance floor, elevating mood leading into the second of two breaks. Tense and cosmic in equal measure, timely modulation delights across the interlude, perfectly setting up a classy crescendo and purring final movement. Progressive house excellence once again from Julian Nates, which rounds out a massive Movement Recordings debut for Paul Hamilton and Anartist. Don't miss it.