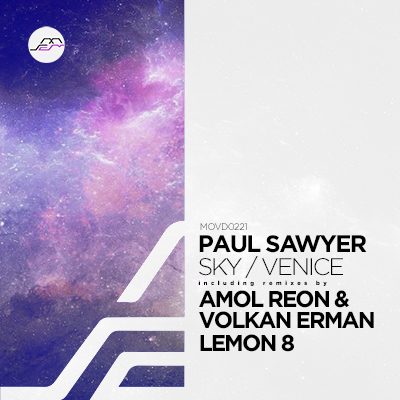 Artist: Paul Sawyer
Title: Sky
Remixer: Lemon8, Amol Reon
Release Date: 28 May 2021
Supported by: Armin van Buuren, Markus Schulz, Michel de Hey, Joris Voorn, Paco Osuna, Maceo Plex, Dubfire, Damian Lazarus, Mind Against, M.A.N.D.Y., Agoria, Armen Miran, &ME, Audiojack, Terry Grant, Lonya, Graziano Raffa, Jickow, Di Rugerio Music, Mariano Mellino, ao
Tash's Movement Recordings continues a strong spring season by welcoming Paul Sawyer to the label for his debut EP. The UK artist has been a fixture of the progressive house underground since first appearing in 2013. A string of releases on his own Krafted Recordings imprint set the stage for outings on ICONYC, Perfecto Black, Pure Progressive and Toolroom. Also a highly regarded DJ, the Winchester resident has delighted crowds at Ministry of Sound, Egg London, Cream, Renaissance, Bestival and Bedrock. Now continuing what has been a great year Paul makes a welcome first appearance on Movement with 'Sky' alongside remixes from Lemon8 and Amol Reon and Volkan Erman.
Paul's keen sense for the dance floor is well documented and perhaps never more prevalent than on the title selection 'Sky'. Led by a warm yet punchy groove, it's electric rhythms and mystical tones unite for a captivating storyboard. Driving and energetic, astral synths and mounds of pulsating bass delight across the first act, as a maze of percussion pushes momentum forward. Ethereal and cosmic throughout the main break, it's flair for the dramatic grows with a trail of percussion and icy pads sparking a resounding apex and charged drop. The companion piece 'Venice' finds Paul continuing the peak times vibes set by its predecessor. Its muscular groove is perfectly contoured, driving forward with a maze of percussion and cosmic arps setting a frantic pace. Although subtle, its melodic prowess proves irresistible, with an emotive break sitting at the heart of the composition and ultimately propelling the journey to an exhilarating finale.
Making his label debut and providing the lone interpretation of 'Sky' is progressive legend Harry Lemon aka Lemon8. The Dutch artist was at the forefront of the genre's initial movement with timeless classics such as 'New York, New York' released c/o John Digweed's Bedrock Records in 2002. Almost twenty years later and Lemon8 continues to delight the genre's die-hard fans with his recent releases for Soundteller Records. Now following a remix of Andy King's 'Poseidon' to begin the year, Lemon8 debuts on Movement Recordings with a powerful rendition of 'Sky'. Electrically charged with buoyant beats and a shapelier take on the groove, it's buzzing energy beams brightly from the outset. Combining robust rhythms with charming vocal phrases and a dazzling array of drums makes for a hugely exhilarating first act. Segueing into emotive territory, the main break melts down to a glow of impassioned chord changes and fluttery electronics, as muted beats and striking stabs rise towards stirring finale.
Rounding out the release and providing the lone interpretation of 'Venice' is Amol Reon and Volkan Erman. Hailing from India and Turkey respectively both artists have enjoyed success in their solo careers with a collective discography highlighted by releases on Balkan Connection, BCSA, ICONYC, Massive Harmony and Amol's Groove9 Records. Having contributed a track to Movement's popular GLBLMVMT3 - Exploring India collection, Amol now teams up with Volkan for the first time with a stunning take on 'Venice'. Taking a cue from the original, the duo delivers a headier rendition led by driving percussion, charming atmospheres and luminous arps. Vocal edits add further depth across the first act as it's powerful cadence and tasteful effects transfer energy into a charged final movement. A brilliant remix from Amol and Volkan which rounds out a superb label debut from Paul Sawyer. Highly recommended.