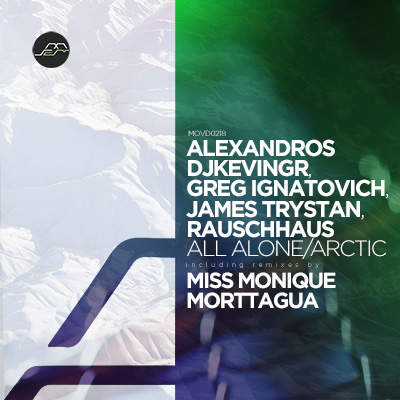 Artist: Alexandros DJkevingr, Greg Ignatovich, James Trystan, Rauschhaus 
Title: All Alone / Arctic
Remixers: Miss Monique, Morttagua
Release Date: 19 April 2021
Supported by: Maceo Plex, Solomun, Adriatique, John Digweed, Agoria, Âme, Joris Voorn, &ME, Damian Lazarus, Animal Trainer, Audiojack, Henry Saiz,  DJ T., M.A.N.D.Y., Markus Schulz, Nick Muir, Paul Anthonee, Simos Tagias, ao.
The latest release from Tash's Movement Recordings finds Alexandros DjKevinGr, Greg Ignatovich, James Trystan and Rauschhaus joining forces for two special collaborations. This quartet of artists have all achieved measurable success in their respective solo careers, with a collective discography highlighted by releases on Beatfreak, Disco Halal, Diynamic, Ellum, Parquet Recordings, Stil Vor Talent and Sudbeat Music. Their affinity for crafting cutting edge sounds always comes with a keen nose for the dance floor and in turn has earned praise from the world's most highly regarded DJs such as Hernan Cattaneo, Maceo Plex, Pete Tong and Sasha. Now landing on Movement for a rare project, the quartet presents 'All Alone / Arctic' alongside remixes from Miss Monique and Morttagua. 
Beginning with 'All Alone', Alexandros, Greg and James craft a peak time slice of progressive techno. Beginning with muscular beats, striking electronics and fiery percussion, the trio introduce an astral narrative led by emotive arps and ethereal vocal phrases. Smooth chord changes flow through a bed of crunchy rhythms, providing a greater emotional lean leading into the break. The centrepiece highlights the vocal further, expanding its impassioned scope, before shifting energy into a soaring finale. The companion piece 'Arctic' finds Alexandros and Greg collaborating with German sensation Rauschhaus on an equally powerful dance floor creation. Perhaps an ideal complement to 'All Alone' it's commanding presence proves impactful from the outset. Rough and rugged in all the right ways; it's pulsating rhythms, sweeping noise and astral sonics set the stage for a prophetic arp and indignant swells to fully saturate your senses during an apocalyptic finish. 

The lone interpretation of 'All Alone' is provided by Miss Monique who makes her label debut. Widely regarded as the most recognized female DJ in progressive house, Alesia Arkusha aka Miss Monique travels the world performing at sold out club venues on a weekly basis, while her podcasts 'MiMo' and 'Mind Games' continue to be two of the genre's most beloved mix series. The Ukrainian artist is also an accomplished producer, with her releases via Black Hole Recordings, Freegrant Music, Perspectives Digital and her own Siona Records imprint all earning impressive Beatport chart placings. Now following a well received collaboration with Sean and Dee, Miss Monique makes her Movement Recordings debut with a gorgeous rendition of 'All Alone'. Drawing on the sensibilities of the original the Kyiv resident leans in a more progressive minded direction, with a lighter low-end and spacious rhythmic core. The main arp translates beautifully over the reconstructed framework, perfectly setting the stage for warm overlays and impassioned chord changes which carry into the break. Cinematic in scope, the centrepiece eventually melts down to a glowing backdrop and fragmented vocals, elevating mood as a tasteful build cues an exhilarating final movement. 

Rounding out the release and providing the lone interpretation of 'Arctic' is Morttagua who also makes his label debut. As one of the world's foremost progressive house producers, the Rio de Janeiro resident has been a permanent fixture in Beatport's sales charts for several years. The Brazilian's Timeless Moment imprint continues to be a favourite of both the genre's fans and it's trendsetting DJs such as Solomun and Tale of Us. Always a creative remixer, Morttagua now debuts on Movement with a powerful take on 'Arctic'. Remarkably fluid and undeniably modern, it's a mix that stays true to the boisterous themes from the original, while adding a deeper, underlying tension through timely effects and rhythmic pulses. Arpeggiated fragments come in waves across the first act, adding a smooth hypnotic sensibility which carries across the main break, before a tasteful build sparks an effects-laden finale. A classy remix from Morttagua rounding out a star-studded release for Tash's Movement Recordings.