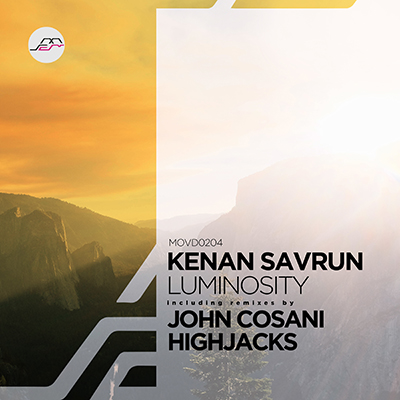 Artist: Kenan Savrun
Title: Luminosity
Remixers: Highjacks, John Cosani
Release Date: 31 August 2020
Supported by: Hernan Cattaneo, Chris Fortier, D-Compost, Max Graham, Sezer Uysal, Lonya, Graziano Raffa, Antrim, Dale Middleton, Subandrio, Unders, Gai Barone, Ezequiel Arias, Muui, Nishan Lee, Pedro Capelossi, Weird Sounding Dude, Erdi Irmak, Mike Griego, ao
The latest release on Tash's Movement Recordings welcomes Kenan Savrun back to the label for his first EP. The Turkish artist first appeared on the Greek imprint in January of this year with a remix of Gabriel Amato's 'Anthrax'. The Ankara resident has compiled an impressive resume since arriving on the progressive scene in 2019. Releases on Ziger's Eat My Hat, Droid9 and Soundteller Records sit prominently in his discography, while his near two-decade long career as a DJ has seen him share the decks with Alex Niggemann, Eli and Fur, Andy Bros, Victor Ruiz and Oliver Huntemann. Now embarking on one of the most anticipated releases of his career, Kenan returns to Movement with 'Luminosity' alongside remixes from Highjacks and John Cosani.
Beginning with the title selection Kenan dives into the pure progressive side of his repertoire. It's punchy beats and well contoured groove carries a large presence, while waves of percussion and astral themes advance the narrative. As momentum builds, fragmented melodies and murky atmospheres play off each other for dynamic moments. Free flowing into the break, timely modulation adds drama and character to the lead theme, while gaseous sweeps build tension as a timely drop summons the groove for a mystical finale. The companion piece 'Lights Out' continues that energetic flow with a driving, hypnotic narrative. A rolling low end sets the track in motion as buoyant themes and lively rhythms move through the framework. Percussive splashes and meditative arps add depth and intrigue, as drifting effects and a glowing theme lead into the main break. Otherworldly yet hopeful, the interlude sits at the core of the storyboard, with fragmented vocals and electric rhythms saturating your senses as a timely drop resets the framework for a spiritual finale.
The lone interpretation of 'Luminosity' is provided by Highjacks who make their label debut. The Greek duo have been fixtures of their country's nightlife for many years, playing many of Thessaloniki's best local venues such as Tokyo City Bar, Thermaikos, Piccadilly, Club Division, Club Vogue and The Real RockNRolla. Also an accomplished production team, the Highjacks discography boasts releases on Balkan Connection, Beat Boutique, ICONYC Noir and Stripped Recordings. Now making their first appearance on Movement, the Greek duo provide an inspired rendition of 'Luminosity'. Backed by a tough, rolling groove the duo's detailed drum work and electric rhythms quickly appease the senses. Cosmic effects add a flair for the dramatic while the lead theme continues to drive momentum forward. Stripping down into the main break, free flowing modulation and spastic effects unite for a gorgeous blend of melody and colour, before a powerful drop ushers in an exhilarating finale.
Rounding out the release and providing the lone interpretation of 'Lights Out' is John Cosani. The Argentinean artist has found a comfortable home on the Greek imprint, with five appearances since making his debut in 2015. Long regarded as one of his country's finest progressive house producers, John has also found a home on Hernan Cattaneo's Sudbeat Music, Beat Boutique and Or Two Strangers. Now making a welcome return to Movement Recordings, John delivers a deep interpretation of 'Lights Out'. Engaging from the outset, its warm framework is crafted to perfection with smooth rhythms and hypnotic arps converging for a gorgeous free form story. Quirky melodies and soulful wails lift the mood higher as the main break commences. Perfectly timed, the track's centrepiece is tasteful trippy, as astral effects melt down against a wave of noise as the groove drops for a purring finale. A brilliant remix from John which rounds out another must have release from Tash's Movement Recordings