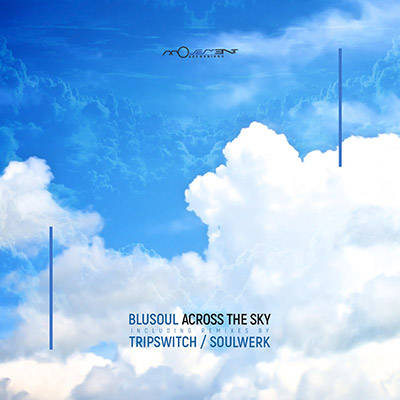 Artist: Blusoul
Title:  Across The Sky
Remixers: Tripswitch, Soulwerk
Release Date: 19 November
Supported by: Hernan Cattaneo, Dubfire, Paco Osuna, Luigi Madonna, D-FORMATION, Petar Dundov, Khen, BOg, Lonya, Maydan, Mariano Mellino, Nick Varon, Framewerk, Paul Thomas, Aly & Fila, Magitman, ao
Blusoul returns to Tash's Movement Recordings with the much anticipated 'Across The Sky'. The Greek artist last appeared on the Greek imprint with his well received 'Delta', a joint production with fellow countryman Ziger. Long a favourite of Guy J and Hernan Cattaneo, Blusoul owns releases on Lost and Found and Flow Vinyl. Now returning to Movement in style, the Greek artist presents a new single alongside remixes from Tripswitch and Soulwerk.


Besting yourself with each successive outing is no easy task but Blusoul seems to find a way to continually push the creative envelope. 'Across The Sky' is a perfect example and is already a favourite amongst some of the industry's foremost tastemakers. The astral intro becomes immediately captivating as an array of wispy atmospherics and tranquil arps create an air of anticipation. Warm, dreamy overlays soon follow and you're effortlessly taken away into a melodic wonderland. Subtle yet powerful, it's blissful theme plays off smooth chord changes and buzzing modulation for a string of magic moments, making for an exhilarating third act finale.

The first interpretation of 'Across The Sky' is provided by Tripswitch who is making his label debut. UK artist Nick Brennan aka Tripswitch has a rich history in electronic music. His fifteen year career has been highlighted by appearances on Hernan Cattaneo's Sudbeat Music, Nick Warren's The Soundgarden and his own onedotsixtwo imprint. His crossover style has also found a home on leading European label Iboga Records where he has appeared twenty times. Now making his much anticipated and perhaps long overdue Movement Recordings debut, Tripswitch delivers a stunning rework of 'Across The Sky'. Warm, driving and devilishly trippy, it's a cross pollinated construction, effortlessly melding progressive house and techno. Dynamic and punchy from the outset, it's bulbous groove carries a captivating presence before dreamy motifs and waves of percussion fill in the framework. Expertly executed, the one minute interlude proves impactful, resonating with ethereal themes and elevating the mood before a tepid rush sets up a classy yet powerful drop. An electric moment for both the mind and feet.

The release concludes with the second and final interpretation of 'Across The Sky' from Soulwerk. The Spanish artist also has a storied career with releases on Cid Inc's Replug Records, Nick Warren's Hope Recordings and D-Formation's Beatfreak Recordings. Now returning to Movement for his second appearance, Soulwerk closes the release out with a top notch rendition of 'Across The Sky'. Anchored by a warm, well carved groove and firing percussion, there's an electric mood from the outset. As drifting atmospheres descend over the framework, sweeping effects and tranquil motifs tantalize the senses. Anticipation unfolds as the main break progresses, phasing noise and clever modulation work in perfect unison, before getting washed away as a flurry of drums shift energy towards a magical drop. A stunning interpretation from Soulwerk which rounds out another must have release from Tash's Movement Recordings.