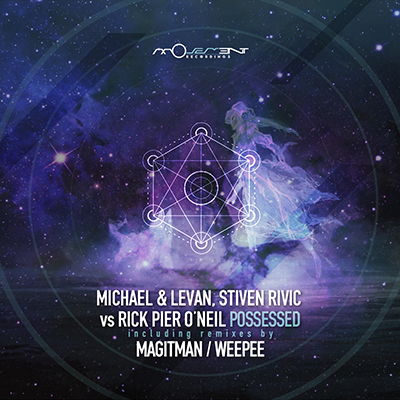 Artist: Michael & Levan and Stiven Rivic vs Rick Pier O'Neil 
Title: Possessed
Remixers: Magitman, Weepee
Release Date: 26 December 2016
Supported by: Tone Depth, Agent!, D-Nox, Jerome Isma-Ae, Karotte, Edu Imbernon, Eelke Kleijn, Hernan Cattaneo, Jamie Stevens, Robert Babicz, Gia Barone, Gabriel Rhome, Alexi Delano, Oliver Schories, Cid Inc, ao
The 136th release on Tash's Movement Recordings presents a brand new single from Rick Pier O'Neil and Michael & Levan and Stiven Rivic. The quartet is much loved in their respective solo careers having appeared on Hernan Cattaneo's Sudbeat Music, and a meeting of their creative minds always results in something extra special. Now making their much anticipated collaborative debut on Movement; the foursome present 'Possessed' alongside remixes from Magitman and Weepee.
The release begins with the original mix and the quartet's fusion of sounds is immediately appealing. Punchy beats, offset tones and crisp percussion make for a dramatic intro before a short break and flow of white noise fully initiates the groove. Percolating synths build a strong cadence as waves of effects flow though the framework, eventually leading to the main break. Short and well timed, the moody interlude builds a brief but palatable tension as the beats drop and the rhythmic storyboard continues. An ominous third act makes for a heady conclusion and one that a true progressive house connoisseur will certainly hold in high standard.
The first interpretation of 'Possessed' is provided by Magitman who is making his sixth appearance on the label. The Israeli artist last appeared on the Greek imprint in August of 2011 when he collaborated with label boss Tash on the now infamous 'Volt Afterhours'. More recently Magitman has had his music showcased on Tulipa Recordings where he remixed 'Inside Beat' by Emanuele Inglese in April of this year. Productions from the Israeli artist have been scarce in recent times so his return to Movement is much anticipated and most welcome. Always one with a keen sense of dance floor dynamics Magitman builds on the great rhythmic elements from the original. Beefy stabs and a chunky, swing heavy groove make for sure fire dance floor success and a top line of wispy atmospherics adds just the right ethereal touch. Massive interpretation from Magitman.
The second and final interpretation of 'Possessed' is provided by Weepee who is returning to Movement for his eighth appearance. The Lithuanian artist has been quiet for over a year with his last official release being a contribution to Movement's 'Re:Born' compilation which was released in June of 2015. Known for his genre bending sound Weepee earned praise from fans of both progressive house and techno while also earning support from world class DJs Hernan Cattaneo and Nick Warren. His return has been much anticipated and he's brought a fresh sound to 'Possessed'. A touch more minimalistic in design the Lithuanian artist builds on a series of mystical motifs and trailing effects all backed by smooth rhythms. The main break is met with a wall of sonic decay eventually giving way to the modular groove and ethereal melodies for one of the records many magic moments. Superb remix from Weepee and another top notch offering from Movement Recordings. Don't miss it.a