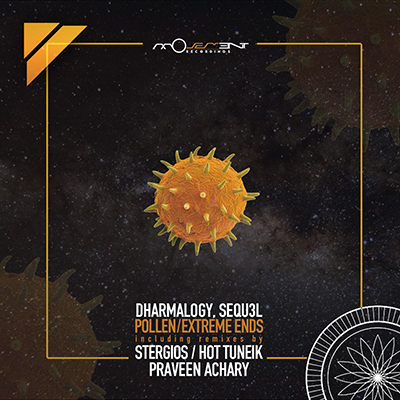 Artist: Dharmalogy, SEQU3l
Title: Pollen, Extreme Ends (ft SEQU3l)
Remixers: Praveen Achary, Hot TuneiK, Stergios
Release Date: November 2016
Supported by: Nick Warren, BOg, Oliver Schories, Jamie Stevens, D-Nox, Sezer Uysal, Marc Poppcke, Danito & Athina, Marcelo Vasami, Graziano Raffa, ao
The 135th release on Movement Recordings welcomes SEQU3L back to the label for a brand new collaborative EP with Dharmalogy. Hailing from India SEQU3L is making his sixth appearance on the label while fellow countryman Dharmalogy makes his debut following releases on Barqoue Records and Bonzai Recordings. Now coming together for their much anticipated debut collaboration SEQU3L and Dharmalogy present 'Pollen / Extreme Ends' alongside remixes from Hot TuneiK, Praveen Achary and Stergios.
First up Dharmalogy goes solo and presents 'Pollen', a deeply hypnotic progressive house number with a bevy of meditative qualities. Beginning with electric bass stabs and granular designs the track immediately draws you into it's smooth rhythmic flow. As sweeps of white noise reveal beefy stabs several melodic accents fill the air as the main break approaches. Warm atmospheres and playful motifs bring a childlike quality as the second act progresses, eventually transitioning the piece into a section of filtered beats and icy pads. It's one of many special moments in the record and perfectly sets up a spaced out finale to take you home. A diverse track with stellar design and creative depth which makes for a great collaboration from SEQU3L and Dharmalogy.
The lone interpretation of 'Pollen' is provided by Hot TuneiK who is making his first appearance on Movement Recordings. The Mexican artist and Hookah Records label boss has been one 2016's most pleasant surprises with a string of quality releases on Proton's Particles, Sound Avenue and Sonnet Speciale. His modern blend of progressive house and techno is currently making waves not only in the Mexican underground but globally as well with Hernan Cattaneo chiming in with support. Now making his much anticipated Movement Recordings debut Hot TuneiK takes 'Pollen' into deep progressive territory with great results. Anchored by a reworked groove the energy of the piece gets upped a few notches. An expert in building hypnotic tension Hot TuneiK methodically adds a wealth of mesmerising motifs before a well executed break brings a gorgeous moment setting up an emotive finale.
Both SEQU3L and Dharmalogy have been noted for their pristine production and with their unique talents coming together for the first time they take it to a new level on 'Extreme Ends'. It proves to be a worthy complement to 'Pollen' with it's deep, chugging groove and smooth flowing cadence. As vocal stabs, metallic motifs and wispy atmospheres build an enchanting vibe the momentum grows. The main break proves to a highlight with immaculate design radiating warmth before the irresistible groove returns for a big moment.
The first interpretation of 'Extreme Ends' is provided by Praveen Achary who is making his first appearance on Movement Recordings. The Indian artist and Juicebox Music label boss would have to be considered his country's most recognisable progressive house artist. With his own
productions gracing Cid Inc's Replug Records, Nikko.Z's Dopamine Music and Lonya's Asymmetric Recordings Praveen's been a driving force in the scene for quite some time and once again amazes with a quality remix of 'Extreme Ends'. Anchored by a smooth and spacious low end, Praveen has reshaped the elements into a deep, enchanting and irresistibly emotive journey. It's elastic-like bass changes and summery motifs are a match made in harmonic heavy and it's tasteful restraint is sure win over even the most discerning of dance floors.
The second and finale interpretation of 'Extreme Ends' is provided by Movement Recordings artist Stergios. The Greek producer is making his 14th appearance but first of 2016, which follows on from a remix of Magentic Brothers 'Among Strangers' in October of 2015. Long noted for his smooth, old school sound Stergios brings that magic once again and closes the release out with a gorgeous interpretation of 'Extreme Ends'. An appropriately deeper take the Greek artist expands on the dreamy qualities of the original for a reflective sounding piece full of hopeful moments and positive vibes. Highlighted by emotive chord stabs and a funkier third act it closes the release out on a strong note and sits as one of Stergios' most enchanting creations of the year. A massive offering from Movement Recordings full of variety and talent. Don't miss it.