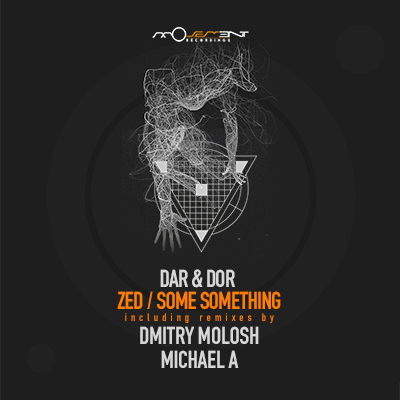 Artist: Dar & Dor
Title: Zed / Some Something
Remixers: Dmitry Molosh, Michael A
Release Date: September 2016
Supported by: Dubfire, Hernan Cattaneo, Mark Knight, Nick Warren, Danny Tenaglia DJ, Olivier Weiter, Robert Babicz, Paco Osuna, Michel de Hey, Omid 16B, Raxon, Mononoid, Lonya, Soul Button, Lexicon Avenue, Balcazar & Sordo, Cid Inc, Denis A, Kosmas, José Padilla, Rich Curtis Dj, Marc Poppcke, ao.. !
 The 132nd release on Movement Recordings welcomes Dar & Dor back to the label for a brand new EP. The Israeli duo of Chico Shoshan & Liran Partush made their debut on the Greek imprint in May of 2014 and have gone on to 3 subsequent appearances. A penchant for dark and mystical creations have garnered much love from some of the underground's top DJ's including Hernan Cattaneo and Guy Mantzur. Now making their much anticipated return to Movement Recordings Dar & Dor present their latest EP 'Zed / Some Something' alongside remixes from Dmitry Molosh and Michael A.
The release begins with 'Zed' which finds Dar & Dor exploring more of their dark melodic themes. Backed by tough kicks and warbly bass tones the Israeli duo quickly unleash a melodic motif with ultra-modern flair. Piercing the atmosphere with electricity the cascading tones and scattered drums drive the track to a timely break. As regular's behind the decks for many years Dar & Dor always bring a great dance floor sensibility. Here the duo works some lovely tension with harmonic refrains before the meaty groove returns and the spiralling melodies take you home.
The lone interpretation of 'Zed' is provided by Dmitry Molosh who is making his sixth appearance on Movement Recordings. The Belarus based artist has been a key contributor to the Greek imprint in recent years and also calls Cid Inc's Replug Records and Guy Mantzur's Plattenbank Records home. Now regarded as one of the leaders in the progressive house sound Dmitry puts his own unique twist on 'Zed'. Anchored by a chunky groove and vibrant design the track flows through an effects storyboard for the ages, all while incorporating the lead theme in a more subversive manner. Escalating motifs accent the framework wonderfully before wispy atmospherics lift the mood higher as the main break commences. Bolder than the original yet still maintaining a cool restraint Dmitry develops the narrative further with a vortex of noise as the melodious groove returns for a massive moment.
The companion piece 'Some Something' comes with more of a classic progressive sensibility and sits as a perfect complement to 'Zed'. It's chugging groove is a nod to the glory days of the genre while cross-cultural motifs just add to the storyboard. Dark electronics and plonky tones quickly wrap around the groove as delays push a wonderfully tripped out break further into the cosmos.
The lone interpretation of 'Some Something' is provided by Michael A who is returning to the label for his sixth appearance. The Belarus based artist and Genesis Music label boss has been a regular in the sets of Hernan Cattaneo, Nick Warren, Guy J and Guy Mantzur over the last year. His modern progressive style is abundantly groovy and he's quickly become one of the underground's most in demand artists. Here he makes a welcome return to Movement and delivers a superb rendition of 'Some Something' to close the release out. With a tougher take on the track Michael's driving grooves and punchy beats are immediately infectious. Waves of percussion bring a techy flair while the vocal elements have been reprocessed into a wonderful tripped out trail. Rising atmospheric themes lift the piece to new found emotions while two short and timely breaks deliver peak time worthy moments. A stunning remix from Michael which rounds out another exceptional release on Tash's Movement Recordings in style. Don't miss it.