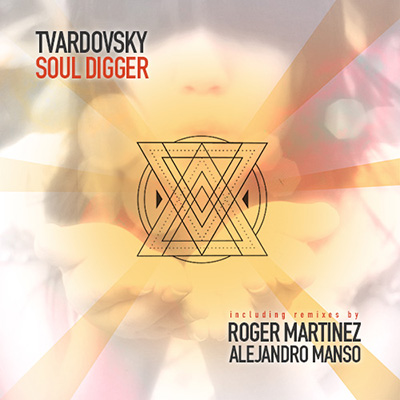 Artist: Tvardovsky
Title: Soul Digger
Remixers: Roger Martinez, Alejandro Manso
Release Date: 27 July 2016
The latest release on Tash's Movement Recordings welcomes Tvardovsky back to the label for his debut single. The Ukrainian artist and Dear Deer Records label boss last appeared on the Greek imprint with a remix of Marcelo Vasami's 'Laval Station' in December of 2014. Tvardovsky has enjoyed much success ever since having gone on to release on Hernan Cattaneo's Sudbeat Music and Parquet Recordings. His much anticipated debut single for Movement Recordings is entitled 'Souldigger' and comes alongside remixes from Roger Martinez and Alejandro Manso.
Tvardovsky's penchant for crafting hypnotic motifs and heartfelt melodies is quite apparent in the tracks intro. Mesmerizing waves and timely piano's create an emotive beginning before getting washed away in favour of tough kicks, dark atmospheres and striking tones. A moody first act captivates the mind, leading the track to the main break where the dramatic tension climbs with each billowing piano stab. It's a unique moment the Ukrainian has captured here and a tasteful drop leads the track into more subversive territory with bulbous bass tones and spooky organs ultimately sealing the brilliance of the piece.
The first interpretation of 'Souldigger' is provided by Roger Martinez who is making his first appearance on Movement Recordings. The Dutch producer and long time member of the GEM Records family is also a regular contributor to Guy J's Lost & Found Records and Hernan Cattaneo's Sudbeat Music. Now making his much anticipated Movement Recordings debut Roger puts his own inimitable touch on 'Souldigger' taking the track into more tripped out territory. As waves of bass carve the deep foundation a storyboard of psychedelic audio begins the journey. From indistinct wails to alien-like transmissions they provide a prefect prelude to the emotive centrepiece. Making great use of the piano theme Roger captivates the mind with panning effects and moody atmospherics, creating tension and closing the piece out with a heady vibe. Another cutting edge creation from Roger that's not too be missed.
The second and final interpretation of 'Souldigger' is provided by Movement Recordings artist Alejandro Manso. The Mexican producer is making his sixth appearance on the label which follows his 'Beautiful Sins EP' released in February of this year. Equally adept at crafting chuggy techno or melodious progressive, Alejandro opts for the latter here and puts his own warm, hypnotic touch on the track. A driving groove sits at the foundation while feathered synths and rugged acid lines create a wonderful cadence. A main break of piano cascades and outdoor motifs make for a moment of tranquillity, before a tasteful drop brings the groove back for a magic moment to close the EP out in dreamy fashion. Wonderful remix from Alejandro which caps off a stunning release from Tash's Movement Recordings once again. Don't miss it.